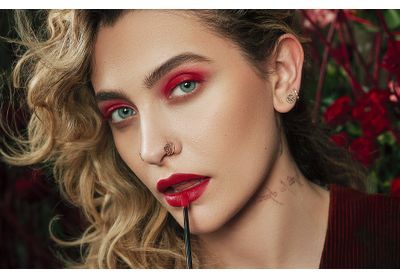 Published on August 12, 2022 at 10:00 a.m.

Discover this ultra-simple red make-up for maximum effect.
Anthony H. Nguyen, KVD Beauty ambassador, reveals the secrets of bold make-up using an impactful color: red. On the eyes and on the lips, it only takes one shade to obtain a professional look. The one who made up the biggest celebrities from Los Angeles to London reveals to us step by step the steps to reproduce this stylish beauty look. And on the model side, it's the sublime Paris-Jacksonmuse of the KVD Beauty brand and more particularly of the lipstick used during the tutorial (Everlasting Hyperlight Liquid Lipstick), who lends her face for the colorful experience.
Adèle's make-up artist explains how to achieve this perfect make-up for a festival, a summer evening or even a concert. The good news ? You only need two products!
The key steps to reproduce Paris Jackson's make-up
-After preparing the skin, apply the red lipstick liquid in contour then fill the inside of the lips.
-Allow product to dry for 30 seconds to ensure long-lasting wear.
-If needed, define the outline again using a flat brush.
-Using a brush, apply a red cream shadow of the same color as the lipstick on the entire mobile eyelid.
A relatively simple tutorial for an intense look, maximum results for minimum effort… Who says better?
See as well : our meeting with Paris Jackson on video.