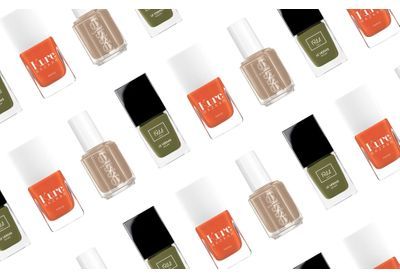 After seeing life in pink in spring, this summer was undeniably colourful. In recent months, our Instagram feed has been showing a plethora of vitamin trends. This fall-winter, we keep the same spirit by opting this time for warmer shades (but not dark for all that). We tell you more!
Nail polish colors for fall-winter 2022-2023
No question of doing in half measures this season again. How well choose your nail polish ? We play with contrasts and step out of our comfort zone. For Kartika Luyet, founder and artistic director of the nail polish brand Kure Bazaar, "the Pop years strongly influence the start of the 2022 school year. A free, cultural, colorful movement… whose first color will obviously be orange". The expert suggests adopting "a saturated, deep, easy and chic orange. To wear with black and green, and a touch of psychedelic purple! ". Another color that is causing a sensation on the net? The green. Adopted by our favorite stars like Selena Gomez in an olive green tone, Chiara Ferragni decides to bet on pastel green when Kendall Jenner opts for a pistachio version. And for the rest of the season, the expert evokes "warm and deep" shades, without ignoring the basics like the eternal red and timeless nude varnish.
Fall-winter 2022-2023 manicures
Between the dopamine nails – understand the ultra-vitamin nails, plain or mismatched – or even the pastel shades of all kinds that have even invaded our summer manicures and our nail art, we didn't know where to turn. And it seems that fall-winter does not seem to put all these colorful manicures in the closet. To our delight, winter will be cheerful! And to know the next manicure trends, nothing better than a quick glance on Instagram. Unlike last year, it seems that fashion is leaning towards more sobriety. We opt for plain manicures, therefore. In terms of style, shine is making a comeback with glossy manicures like those of jelly nails or glazed donut nails who wear almond manicure matte nails of 2021.
Our selection of trendy nail polishes for fall-winter 2022-2023