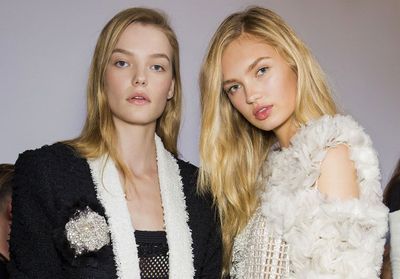 Seeing Blake Lively, Charlize Theron and Gisele Bundchen, we all thought about it one day: go blonde! But its number of shades can scare the most cautious. To see more clearly, here are some tips.
How to choose your blonde
The first thing to do before opting for blond hair? Try to project yourself as a blonde. In effect, go blonde is a transformation that should not be taken lightly because this color requires maintenance and going back can be complicated. In addition, there are a multitude of shades and undertones in which one can get lost. To find the one that suits you best, ask your hairdresser for advice.
cool blondes
Like Cara Delevingne, Jennifer Lawrence, Taylor Swift or Jennifer Aniston.
Gray blond : also called "sand hair", gray blond is an elegant blond that no longer has any warm highlights.
Ash blond : quite dark, the ash blond is often the natural color of real blondes. It highlights light eyes but may lack light.
polar blonde : a very light blonde that tends towards grey.
Platinum blonde / white blond : it's the lightest blonde possible. It is recommended for clear bases. If you have dark hair and want to switch to white blond, it is necessary to do it in several stages over a long period of time to limit the damage.
hot blondes
Like Sienna Miller, Cameron Diaz, Heidi Klum or Nina Agdal.
golden blonde : this is the color of real blondes after lightening in the sun. A warm and luminous blonde.
California blonde : a sunny yellow blonde with a return-from-holiday effect, hence its name!
Honey blonde : a dark blond but soft and golden that warms the complexion.
caramel blonde : it sublimates dull skin and tanned complexions. This blonde really resembles the color of a caramel candy.
copper blonde : an original and very trendy blonde reminiscent of pink gold.
Strawberry blonde : classic shade since the Renaissance, this blonde is strongly red.
The neutral blonde
beige blonde : it is the color with the most neutral reflections. Neither too hot nor too cold, it will satisfy the undecided.
pastel blondes
Pastel blondes have been very fashionable for a few years. Often made on a light base, they bring a touch of color to the whole hair, on the lengths or on the ends. Strawberry Blondepeach, blue or lilac… Pastel blond always gives a boost.
How to maintain your blonde?
To take care of her discoloration or its locks, we choose the right products. In order to preserve the chosen reflections, we opt for a range of adapted care. For cool blonde hair, use a anti-yellowing shampoo once or twice a week. For blond hair, it will be rather a chamomile shampoo that highlights the golden reflections. And we do not forget to feed them well because blond hair is more easily weakened and damaged.
Read also: How to lighten blonde hair?