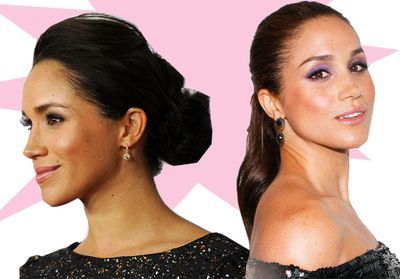 From her debut in the "Suits" series in 2011 to her marriage to Prince Harry and her television interviews, Meghan Markle has sported countless elaborate hairstyles. Wavy blow-dry, high bun, low ponytail or braid on the side… The American actress definitely knows how to highlight her dream hair.
Meghan Markle's signature hairstyles
Simple and effective, Meghan Markle's hairstyles still make a lot of ink flow. The secret to their success? Their impeccable execution and glamorous finish. No wonder coming from a Hollywood actress.
Ponytail
Meghan Markle has the art of glamorizing everything, including the ponytail. This seemingly basic hairstyle always looks stylish on the Duchess. With a parting in the middle, flattened at the back or on the side, it gives it back its letters of nobility.
The wavy
This 2010s hairstyle that Meghan Markle adore has not aged a bit. As proof, the star of "Suits" regularly continues to proudly display soft waves. Something to remember the time when she walked the red carpets with style.
The bun
Tradition obliges, Meghan Markle used and abused the bun during her years in England. It was also the hairstyle she wore at her wedding to Prince Harry. The detail that changes everything? Leave two locks in front for a sexy touch.
Zoom on the most beautiful hairstyles of Meghan Markle in pictures