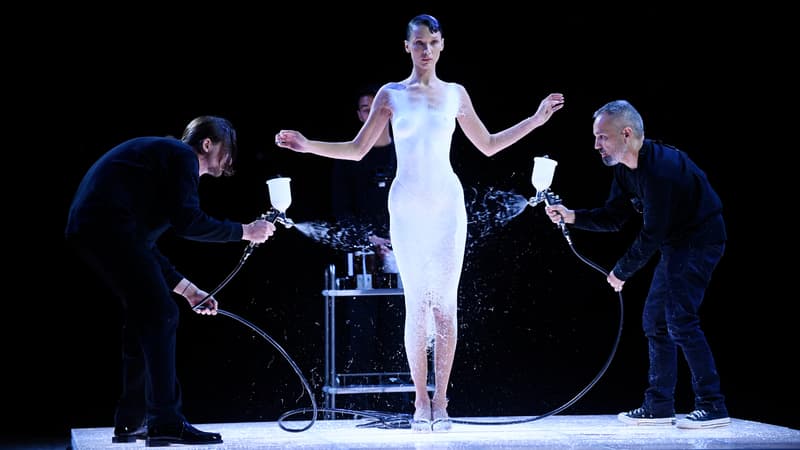 Fashion house Coperni pushed the boundaries of technology during its Spring/Summer 2023 show this Friday by dressing Bella Hadid in a liquid that, once solidified, formed a dress.
It is certainly the most outstanding performance of this Fashion Week in Paris. This Friday, Coperni – the French house founded by Sébastien Meyer and Arnaud Vaillant – pushed the boundaries of technology in fashion during its spring-summer 2023 show at the Musée des Arts et Métiers in Paris.
Closing the show, the American model Bella Hadid appeared on stage, wearing only panties, before being sprayed by three men with an astonishing liquid, which, once solidified, formed a white minimalist dress on the model's body, in a matter of minutes.
fashion revolution
Developed by Manufacturera materials science company run by Spanish fashion designer Manel Torres, this solution sprayed on Bella Hadid contains cotton fibers and synthetic fibers suspended in a polymer solution that evaporates when the liquid comes in contact with it. with the skin.
According Vogue BusinessSébastien Meyer and Arnaud Vaillant would have worked with Manel Torres for more than six months in order to perfect the effect of the vaporization and its result.
With this ambitious performance, the Coperni house was able not only to conquer the public present at its fashion show but also spectators from a distance. On Twitter, many Internet users called this performance "a memorable moment in the history of fashion".
"It's our way of celebrating female silhouettes. We wanted to modernize our aesthetic in a more elaborate and scientific way", said Sébastien Meyer and Arnaud Vaillant in an interview with Vogue UK.