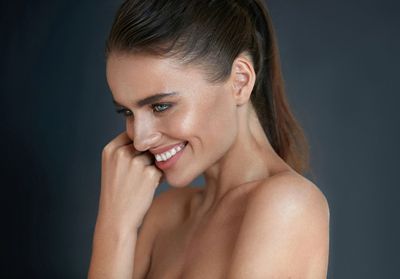 Tanning in the institute: the self-tanning shower
With the self-tanning shower, we get an intense and uniform result that lasts almost a week if we hydrate well every day and skip the shower the evening of the session. All you need is a self-tanning misting session in the cabin. To be tanned on the heads and tails side, you have to turn around mid-session, or even contort yourself a little.
Read also: sandwich hydration, the latest obsession
Tanning in the institute: the air brush
It is the beautician who handles this gun of the future. Same result and duration as with a shower, less gymnastics since it is the pro who takes care of the spraying.
Tanning in the institute: the self-tanning massage
The pro starts with a scrub to get rid of dead skin, then manually apply a self-tanning solution. The result takes eight hours to see, but we take advantage of the treatment to relax. And we really have a mine back from vacation.
Read also: The best self-tanners for tanned skin
And before tanning in the institute?
Subtle self-tanning is possible with good preparation. "The key is to seriously exfoliate the skin the day before applying the self-tanning treatment," explains Emma Kotch, expert for the St. Tropez brand. Insist on the shoulders, knees and heels, it is essential to obtain a harmonious result. The next day, apply a very thin layer of moisturizer on all these dry areas: the product will penetrate less into the epidermis, which will avoid dark marks on these areas. You can use a gradual lotion every day after showering, or a mousse, with a double-sided glove for a perfect result. Start gently on sunny days then, the day before departure, treat yourself to an express treatment (at home or in the salon as you prefer), visible from the application. » Body products always tend to dry out the skin, moisturize regularly, and treat yourself to a scrub every five days for optimal results.
Discover five addresses to treat yourself to a perfect tan: