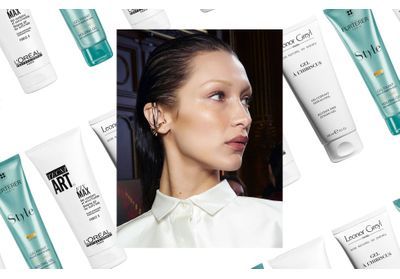 Outdated the gel on the hair? Nay. If it might remind you of Drazic's hairdo in "Hartley, Hearts Alive" or the commercials of the 90s, know that this magic product has been making a comeback for a few years now… behind the scenes. Studio hairdressers have never really put it aside because, in addition to changing a look in seconds and ensuring a long hold, the gel brings style to any hairstyle. Thus, we see it in many backstage beauties of Fashion Week. But not all gel is good to take. The classic cardboard-effect gel that damages as much as possible? Very little for you. To reproduce the celebrity wet look on the steps of the Cannes Film Festival, it is better to opt for a styling product and know how to apply it.
How to apply gel on the hair?
You eye the wet look hairstyles models on the catwalks? We explain step by step how to reproduce the wet look with styling gel:
-Comb your wet hair back or to the side, depending on the look you want.
-Pick up some gel in the palm of your hand and apply it in the chosen motion (backward or sideways). Focus on the head and roots. Leave aside the lengths that will dry naturally for more fluidity.
-Apply a spray of shine spray to amplify the wet effect or a spray of classic fixing lacquer for a more matte effect.
How to choose your hair gel?
Choose natural ingredients to take care of your hair fiber and not suffocate it. Avoid paraffin and alcohol-based products as well.
Good to know: there are DIY recipes on the net to make your own homemade gel, based onaloe vera for hair for example. Up to you !
Our pick of the best hair gels