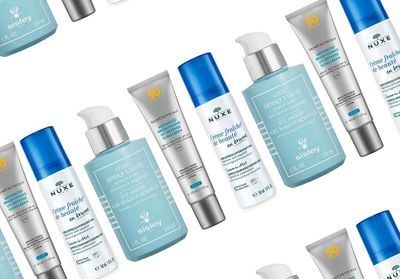 The editorial staff tested new products to take care of your face despite the heat and the summer sun. And if we all agree that we must adapt our skincare routine to the summer, we still wonder which care to turn to. Between SPF day cream (essential), fresh make-up remover and moisturizing mask… Here are our tips for this summer.
Why is it important to have an SPF in your face care in summer?
The Sun Protector Factor (spf) is the number noted on the product which indicates the intensity of the sunscreen. You choose your SPF according to your phototype which is defined by its ability to tan, its sensitivity to take Sun burnbut also of his vacation spot (mountain, tropics, countryside).
We advise intermediate phototypes (III), the most common in France, to use an SPF of 20/30, for common exposures in town and in the countryside. In the event of prolonged or extreme sun exposure (tropics, high mountains), you must renew your sun protection at least every two hours. Warning: the use of a product with a very high SPF does not dispense with re-application! "Indeed, if you want to have the sun protection index indicated on your sunscreen, you must apply 2mg of cream thickness per cm2 of skin: in practice, you apply, at best, 0.5mg of cream per cm2, i.e. 4 times less. It is therefore necessary to reapply the sunscreen every two hours to get closer to the index announced on the tube", explains Dr. Nadine Pomarède, dermatologist at the DermoMedicalCenter.
Whatever the sunscreen product, it must be applied in sufficient quantity: a finger of cream protects your face, two fingers are needed for an arm or a leg.
How to choose your face care in summer?
Depending on the type of skin and where you are, the daily care recommended varies. Light skins will opt for protections with index 50 (or minimum 30), matte to black skins can be satisfied with an index 30. For dry skins, it is recommended to use a nourishing treatment. The combination skin or oily will choose sunscreen products with a dry touch, mists or sprays to avoid shine. Skin prone to imperfections will have to turn to specific ranges.
On the texture side, we swapped its balm and its rich cream, in short its winter care, for a gel or even water texture, finer and therefore more suitable when it is hot. Finally, after the exposure, we do not forget to apply a care after Sun to soothe overheated epidermis, nourish the skin and prolong tan.
What makeup in summer?
In summer, more than ever, we opt for light makeup. The heat makes our epidermis shine and sweat, so no need to add it. And that's good, because the sun already gives us a nice tanned complexion. To camouflage small imperfections, swap your usual foundation for a less rich BB cream or tinted cream. No need to keep your make-up covering the winter at the risk of further clogging the pores. To bring a little more glow, we opt for a Bronzing powder always with SPF. The tinted sun creams can be another alternative for those who want golden skin. As for the rest of the face, there's no need to overdo it. Less is more. A pretty glossy mouth and an underlined look will be assets for a summer makeup.
Read also: Beauty coaching: how to wear makeup well under 28 degrees?
Our selection of facial treatments for the summer to adopt this season