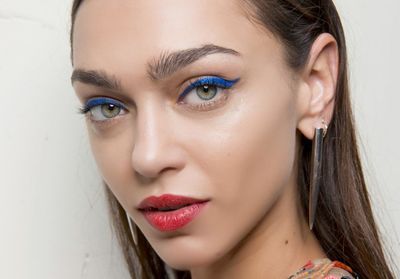 When we talk about Christmas, there are two teams. Girls who don't wear makeup at all and only wear their tastiest Christmas sweaters (hello Bridget Jones!). And the others, who pull out all the stops. To help them, we've selected our favorite end-of-year make-ups. Glitter on the eyes, smoky eyes or well-worked lips… Here are three tips for putting on good make-up at Christmas.
Christmas makeup: we put on the eyes
If there is one time in the year when you can play the glitter card, it's during the holiday season. The right trick for an assumed look? Choose a flashy color from our latest palette or better yet, choose two: the first for the mobile eyelid and the second on the lower lash line, like at the Peter Pilotto fall-winter 2018-2019 show. A little bit of mascara for pretty eyelashes, and you're done!
Christmas makeup: we put on the mouth
Another solution, we insist on the lips. You might as well play fair with a bright color: red, pink or plum. From now on, the textures, colors and effects are multiplying to vary the pleasures. Metallic, creamy, or even glossy lipstick… To each their own style. But to spend the meal with peace of mind, it is better to opt for a matte lipstick.
Christmas makeup: we focus on the complexion
Finally, if you don't particularly want to pull out all the stops, you may however wish to display a perfect complexion. After erasing imperfections, dark circles and stains on the skin using color correctors, apply a thin layer of face powder liquid or compact. To avoid the " cakey face » or plastered complexion, you can mix your product with your moisturizer and make your own BB cream. We look good with a cream blusher finger tapped. The final touch? A little illuminator at the top of the cheekbones, on the bridge of the nose and under the eyebrows.
Best-of Christmas makeup to try without further delay.