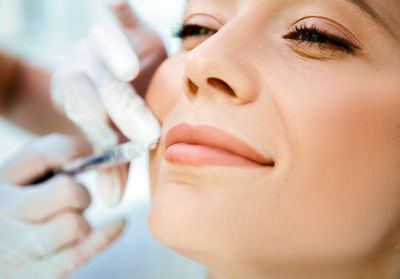 Unconditional of reality TV, Valentine has always wondered how the stars of the small screen managed to be so luscious. So when her face started to lose its grace, she ended up taking action. But by embarking on what could be described as a wild and clandestine aesthetic, she who wanted to look like her idols, thinking she was in total safety and believing she was saving some money along the way, took big risks. And if everything went well in his case, it is important to warn against these dangerous practices. It is alongside Nathalie Grall, dermatologist and vice-president of the French Society of Lasers in Dermatology, that we take stock.
WHAT MOTIVATED ME
I wanted to have a luscious mouth. My lips are too thin, it's not pretty. And seeing the girls on television and especially on Instagram, I thought to myself that it was surely possible for me too.
Our expert's opinion
First of all, each face is unique and therefore has its own morphology. Luscious lips are not for everyone. In addition, you have to be wary of fashion effects. Wanting to change a part of your body, like the lips here, is not like buying a pair of shoes that you will change if the trend changes. You have to think carefully before taking the plunge. And also talk about it with a professional in order to gather opinions and advice.
HOW I CHOSEN MY PRACTITIONER
It was thanks to an acquaintance that I found out about this network of aesthetic retouching, cheaper and close to influencers. They publish their results there, the best of course. But given the quantity, I said to myself that very beautiful things were done on a daily basis. Anyway, it was not really possible for me to go to a factory-like clinic or aesthetic center: I find it very impersonal, you don't know the doctor, you queue up and the work doesn't work. not fooling me at all.
Our expert's opinion
First of all, beware of misleading filters on social networks! Moreover, choosing your doctor on social networks is a mistake. You choose your doctor for his skills and, if word of mouth can work very well, you still have to make sure you have a regulated framework. For the clinic, once again, everyone has their own choices. Not all clinics have a cold frame. The goal remains to make an appointment with your good doctor and not a place. The best thing is to take your time to see what suits you best.
IS IT REALLY A DOCTOR?
I haven't checked to see if it's a doctor. She presents herself as a doctor and affirms that she has followed serious training. But the most important thing for me is that she is passionate and that she has already done interventions on herself. She is like her work. For me, it's only the rendering that counts and the confidence I have in what I see… So I went there with my eyes closed.
Our expert's opinion
Only doctors and surgeons are allowed to perform such injections. The first thing to check is the person's medical degree. Especially since there are gestures to know and procedures to follow to avoid any risk. Indeed, it is essential to know the anatomy when carrying out injections so as not to prick in a vein for example. This can cause necrosis in some people. Passion is obviously a tremendous asset, but it is not a diploma.
HOW I CONTACTED HER
You have to reach her via Instagram and then via WhatsApp to make an appointment – ​​quite early, because she is a Russian practitioner who travels all over the world.
Our expert's opinion
Once again, watch out. A doctor must have a telephone number where he can be reached. In addition, to practice in France, the practitioner must hold a number of the council of the order of doctors. This can easily be verified on the internet.
BEFORE D-DAY
She sent me recommendations a few days before: no aspirin, no hot drinks, etc. As for the information on the prices and the place of the meeting, they are sent the day before by message.
Our expert's opinion
It is essential to have a first physical visit. A first exchange between the patient and the practitioner. This is when the price is set based on demand and the process and product chosen. The practitioner verifies that the patient's project is considered and also ensures that there are no contraindications. Finally, if everything is good, he draws up an estimate and leaves 15 days for reflection.
THE MEETING PLACE
She is the one who chooses it, either an Airbnb or a rented cabinet with table and lights in the upscale neighborhoods.
Our expert's opinion
Alert ! These practices are highly regulated and highly supervised. A doctor holds a place to practice with a plaque in front of his door.
HOW WAS THE SESSION
The practitioner was accompanied by an assistant who spoke French. She was able to put me at ease for this first time. She held my hand. After taking care of my furrow, she even recommended me to do Botox for my frown lines, my cheekbones, my lips, etc. I felt comfortable and good about myself.
Our expert's opinion
According to the information given by the patient, this practitioner is itinerant. It is therefore in her best interest to do as many operations as possible in the same appointment, at the risk of overdoing it. Results ? A forehead that is too frozen, cheekbones that are too swollen, not to mention the many other risks. It should also be noted that botulinum toxin is a drug that only dermatologists and surgeons have the right to use.
WHAT SHE INJECTED ME
What I do know is that she injected me with hyaluronic acid, but I didn't sign anything.
Our expert's opinion
Within the framework of a legal procedure, the patients sign an informed consent on the spot which stipulates the possible risks, the type of product as well as the quantity. The doctor keeps track of the product with the label on the packaging. In the event of a problem, he can then find the lot immediately. All hyaluronic acids and botulinum toxins (Botox) that come from confirmed laboratories (such as Allergan, Galderma, Merz, etc.) are ultra-controlled products. Valentine takes great risks here by not knowing what is being injected into her. A product can migrate, cause uncontrolled reactions, deform the skin, form balls…
AND THE RESULT?
My furrow had disappeared! I immediately wanted to resume an appointment, because I didn't immediately have the budget to do it all at once… but I had to wait for new dates in Paris. So I waited, this time for the lips. On the second date, she gave me what is called a Russian Lip. At first, it was swollen, I liked it, but I was still a little worried. Then, finally, after a week, my lips had taken on a heart shape, with perfect proposals.
Our expert's opinion
Difficult to express a point of view when it comes to aesthetic choices. That said, for any first date, it is better to go gradually and act in two stages. The fact that the lip is swollen is quite normal since the mouth is a fragile area with a very vascular mucosa (for the red area). On the other hand, the patient should have been warned by the doctor and taken in hand with ice packs and arnica.
WOULD I DO IT AGAIN?
Yes, because I feel more beautiful. And despite what we can say about certain reality TV stars who abused this kind of intervention – it was she who touched up all the faces of the people of Marseilles – she seemed very professional to me with a light hand. I even found that the effect was not pronounced enough!
Our expert's opinion
We can not inflate an area like the lips without taking into account the rest of the face, at the risk of grotesque results. Today, doctors are working on a treatment plan that takes into account the balance of the face as a whole. They may inject into unsuspected corners such as the temples to rejuvenate the contour. This requires technique and professional training. Valentine, for the moment, has been very lucky, which is not the case for many young women who arrive in the practice, with deformities, asymmetries or even necroses.
PRICE?
For the train paths, I paid €250 or €300 in cash. Same for the lips.
Our expert's opinion
When doing a treatment, the price is global and not defined by zone. Valentine has certainly saved 150 to 200 euros, but by taking risks with a product of which she is totally unaware of the origin.
WHAT IF THERE IS A PROBLEM?
If I have a problem, I will be in the same situation as with a medical center that has a storefront: they can't do anything for me and they won't reimburse me. They won't take better or better care of me… My only recourse would be to wait for the product to subside!
Our expert's opinion
It's wrong ! The doctor has several recourses in the event of a problem. He can do a touch-up if he has an asymmetry or even inject a product called Hyaluronidase. This allows hyaluronic acids to be degraded in the event of an unwanted reaction. On the other hand, in this specific case, if the patient has the slightest concern, no one can intervene, because nothing is known about the product administered. This is the case of one of my patients who was injected by a beautician illegally: the result is a disaster, the beautician has disappeared and I cannot correct anything because I absolutely do not know not what she received and I don't want to take the risk of aggravating the problem!
Warning: unauthorized injections outside the medical circuit can be dangerous for your health.