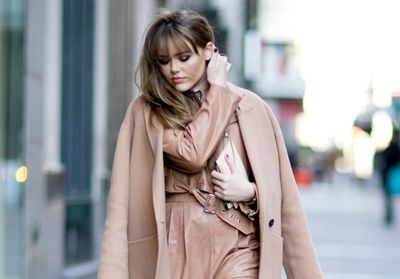 How to wear straight bangs?
What you need to know before getting started: "the straight fringe can suit everyone, you just have to adapt the density of the fringe and its length", teaches us Gianni Coppa, hairdresser and founder of the Parisian salon R'Factory. On the trend side, the straight fringe is now worn in a curved way. The pro's tip? "We make it slightly rounded on the sides to frame the look". Another trend of the moment: bombard her bangs. "To obtain a nice effect, we keep the length and we use a straightener or a blow-dry brush to display a beautiful curvature", explains the hairdresser.
What are the other types of bangs?
Tapered bangs
Big fall trend, the wispy bangs is on all fronts. Halfway between the straight fringe and the curtain fringe, this more modern version has many advantages, including that of refining the face.
Fringe on the side
It's a comeback we didn't expect. And yet, many celebrities like Kim Kardashian or Dua Lipa assure us: the side bangs is trending again. Vestige of our adolescence, this fringe crosses the forehead diagonally and gives the hair an ultra desirable movement.
curtain fringe
Star of hairstyles, the fringe curtain continues to seduce year after year. We love it for its rock and chic side and above all because it highlights all face shapes. The rule to know? This makeover is particularly suitable for straight (or slightly wavy) hair.
The most beautiful variations of the straight fringe