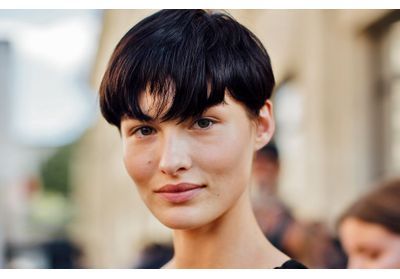 Why such a desire to be cut the hair does it take us for this start of the school year? Going from a traditional cut to a more "radical" option – to use a word dear to EELV deputy Sandrine Rousseau, whose boyish pepper and salt hair is already cult – is not trivial. Today, the palette being less compartmentalized around binary options – the long feminine or the short masculine –, everyone can trim their hairiness, on the skull and elsewhere, as they see fit.
Read also >> Hair, our best addresses: the kings of scissors
A symbolic emancipation
This desire for a cut could thus find its source in the economic situation. "Hair is the first expression of upheavals in personal life but also in society, notes Julien Magalhães (@julienmaelstrom), specialist in the history of fashions and costumes, and creator of the podcast "Les Beaux Restes". The current period reminds me of the Directory: after the French Revolution, between 1792 and 1812, for about ten years, women cut their hair. Before the Revolution, it was the era of the powdered, voluminous and extravagant wig. It was banned in 1792, and we see the appearance of hair "à la Titus" or "à la Caracalla", with texts praising this short and "fresh" hair that can be styled with the finger. At that time, they symbolize a great wave of hope towards a more egalitarian society. They are also highly criticized. These women are accused of becoming sterile, therefore of endangering the nation. And in 2022? Cutting her hair would still show a certain audacity. "It remains a symbolic emancipation, continues Julien Magalhães. By cutting short, even very short, we free ourselves from the old codes, in particular of genre. It is always a form of militancy, like the wearing of the Afro by the Black Panthers, for example. It is also a response to the model of femininity promoted by the Kardashians for a few years. Be that as it may, the experts interviewed all referred to the Roaring Twenties, when women, exactly a century ago, wanted, after a very difficult time, to emancipate themselves, to work, to be free. A will that obviously has not left us.