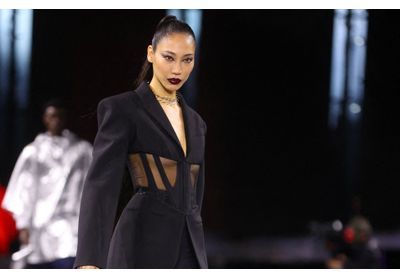 Published on October 05, 2022 at 6:19 p.m.

Discover the video interview of Soo Joo Park who talks about care, hair and tips passed down from mother to daughter.
If her beauty is unique, it is her passage to platinum blonde which considerably boosted her career – and allowed her to be spotted by Karl Lagerfeld. Soo Joo Park, backstage at the L'Oreal Paris show, looks back on her go blonde for us, though today she's gone back to her original brunette and flaunts an XXL length. She takes the opportunity to explain to us what Korean beauty represents and what makes it unique. Between technological innovations and special attention paid to skincare, K-Beauty continues to fascinate and the ambassador tells us why.
A star model on the catwalks of the 2010s, Soo Joo Park has also been the face of L'Oréal Paris since 2015. As every year, the French brand is organizing a fashion show bringing together its muses and this is an opportunity for the model to talk about her beauty tips and inspirations.