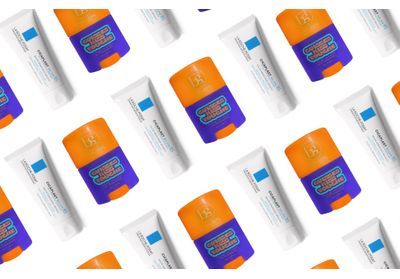 Ah summer, the sun, the beach… So many good things to make us forget the little hassles of everyday life and relax after a busy year. Yes, but if there was something to complain about this season, it would be the phenomenon of the friction of the thighs which is growing (much to our chagrin). The cause ? Rising temperatures and our clothes losing fabric. Perspiration, humidity, salt water and skin to skin obviously do not mix and lead to discomfort making certain walks (even the smallest ones) difficult. To treat or even counteract this chafing, Dr Marina Alexandre, La Roche-Posay consultant dermatologist, gives us her tips and tricks to free yourself from touching thighs!
The friction of the thighs, where does it come from?
First of all (and it's important to say this), all women can suffer from thigh chafing. Contrary to popular belief, this phenomenon is absolutely not the result of any overweight problem. And for good reason, "having thighs touching is a morphological phenomenon specifically linked to the female anatomy," explains Dr. Alexandre. To oblivion, therefore, the thight gap – understand, the space between the thighs – and other slimming phenomena (often dangerous) seen on social networks.
That said, if in winter our pants and other tights protect us from chafing, the summer season changes the situation. And for good reason, "the phenomenon generally increases in summer since our legs are bare, continues the expert. Combined with heat and perspiration, skin-to-skin contact can become uncomfortable and irritating."
What are the discomforts due to friction on the inside of the thighs?
We have understood (even suffered) the combo of heat, perspiration and friction can quickly make life difficult for us. "Sensations of heating and possible itching can be felt at the beginning, explains the dermatologist. More severely, you may see redness appear on the skin, feel pain or even a burning sensation. And, in some cases, it doesn't stop there. "Extreme stages sometimes lead to skin erosion, in other words extremely painful wounds, such as superficial burns, induced by friction". If this is not dangerous per se, these repeated irritations and wounds "can leave pigmented marks on the skin, especially in high phototypes", explains the dermatologist.
How to prevent chafing of the thighs?
There are several ways to prevent the onset of discomfort related to chafing thighs.
"Mechanically, wearing clothing that protects the skin such as shorties or cyclists under a skirt or a dress, tights whose ends have been cut off or Bermuda shorts (very trendy this season, editor's note) represents a first solution", launches the expert. There are even elastic anti-friction bands. Ingenious? Yes, but when the mercury climbs and approaches 40 degrees, this solution can quickly make us hot! What if we trade our insulating clothes for an insulating cream? "These barrier creams reduce the impact of friction", specifies the pro. We then think of the special creams used by athletes. Other tips? Applying talc between our dried thighs after the shower. "Nevertheless, I find this technique less effective," says Dr. Alexandre. What if we don't have anything on hand? We are looking for a product with a rich and greasy texture like petroleum jelly for example. If this alternative reduces friction and limits irritation, it is however not the most pleasant.
How to treat irritation induced by thighs that rub?
And if however the irritations are already installed, the expert explains that it is "essential to fight against friction, otherwise it will never heal". It is therefore time, if you have not already done so, to put on pants or any other item of clothing that covers this area to prevent the symptoms from getting worse. Then, the skin is repaired with healing creams. "They have their place here," says the dermatologist.
Our selection of treatments to fight against the friction of thighs that touch each other