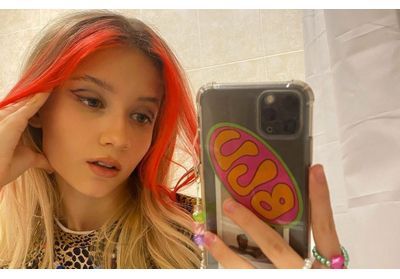 The month of August has just begun and our desire to change our minds is sorely felt. We only have a few weeks left before the start of the school year, enough to leave us a little more time for a hair madness. And why not try a little color? Although blond and all its shades are regularly highlighted during the summer season, pop colors can also be a bold solution for a total renewal. While last year the trend was " blonde snape ", a hair contouring more pronounced, for 2022, we decide to be less wise and to dare by adopting rebel streaks (or rebel streaks).
Colored locks: how to adopt them?
Highlighted by many somewhat rebellious stars like Avril Lavigne, these locks, which were very fashionable in the 90s and 2000s, were for many of us a way of asserting ourselves and letting free course to our desires. To adopt them in a more modern way, we now choose to color only the first locks that frame our face. Why ? Quite simply to bring light to the latter. So whether it's barbie pink, fiery red or electric blue, our locks are sure to be ultra-flattering. Another advantage: they will allow you to bring that touch of madness that you are looking for, without requiring a lot of maintenance, and above all, without doing too much. They will also be easily exchangeable in case of regret. In short, they have everything to convince us to take the plunge (at least for the end of the summer).