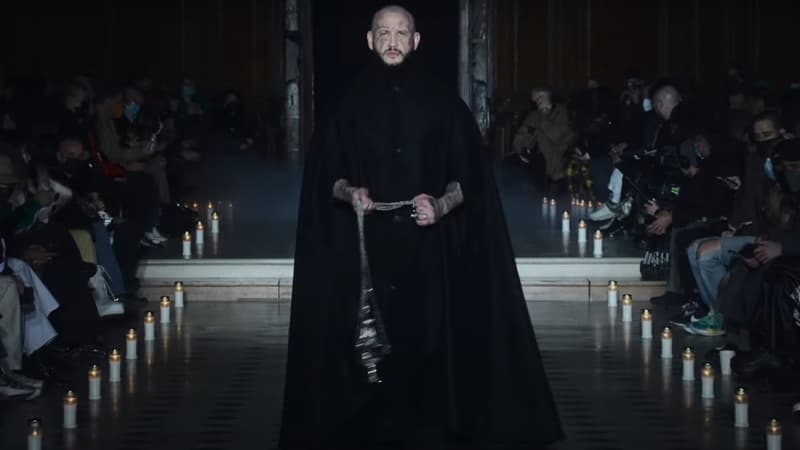 The French rapper was on Wednesday in the Temple of the Oratory of the Louvre to open the parade of the Egonlab brand.
Kanye West showed it: hip-hop and fashion go hand in hand. French rapper Seth Gueko took the plunge on Wednesday by parading for the French brand Egonlab as part of Paris Fashion Week. The interpreter of Kratos opened the parade dressed in an outfit reminiscent of a priest, a long black cape close to the cassock, carrying a censer in his hands. All in the Temple of the Oratory of the Louvre.
"We are not fashion victims but fashion criminals…", writes the 41-year-old rapper in the caption of the photo of his visit, which "he posted on Instagram.Seth Guex aka: the purifier, the mozguz gossip, Voldemort, Darth Vader without helmet, Gomez Adams, the Joker with the Batman cape, the undertaker, the inquisitive father, the big pop, Richard Chambarlou, Nosferatune, Abbé Résina."
Parade couple
As noted by Huffington Posthis wife Ndiaye Salvadori also took part in the parade, also dressed in black. "The black mass of our marriage. They lived unhappy but had a lot of hell", writes Seth Gueko to the magazine Anchor.
Egonlab was launched shortly before the start of the pandemic by a duo of young French designers, Florentin Glemarec and Kevin Nompeix. As reported vogue, this complicated timing did not prevent them from developing the brand and getting noticed. They won the prestigious Pierre Bergé prize from ANDAM last year and are finalists to win the Woolmark Prize 2022.