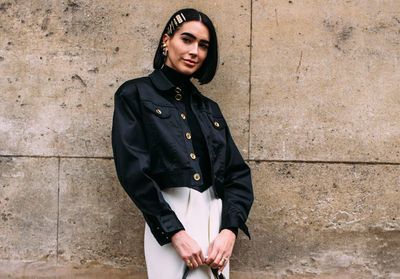 What face shape for a plunging bob?
The main advantage of the plunging bob is that it suits all face shapes. It will particularly appeal to fine hair because it gives an impression of volume.
Why make a plunging square?
Vintage and old school, the plunging square has been back for a few seasons. If we no longer wear it asymmetrically like Rihanna in the "Umbrella" clip, the trendy girls are revisiting it in their own way. Results ? The square is less strict but keeps this nice movement. A short haircut ideal for gaining volume.
The plunging square on straight hair
There are several ways to wear this version of square cut on the straight hairwhatever its length:
Like Katie Holmes, we opt for a slightly plunging cut with a side parting that suits everyone.
Like Victoria Beckham, we try the frankly plunging square, short at the level of the neck. A symbol of the 2000s.
Like Rihanna, we try everything and we test the asymmetrical plunging square. This rock cut is daring but it's not the easiest to wear.
The plunging square on wavy or curly hair
The plunging square on wavy hair softens the face. We are inspired by that of Viola Davis for a romantic wavy hairstyle. For the curly hair on the other hand, it is important to thin out the mass of hair in order to tame it as well as possible.
What fringe for a plunging bob?
Pay attention to the "TMI" ("Too Much Information") side of the plunging square with fringe. Indeed, the classic plunging square is already an original and quite graphic cut. We can add a fringe, but rather on the side as the singer Cheryl Cole had done, which allows to have the face cleared.
What hairstyle to do with a plunging square?
Contrary to popular belief, it is quite possible to achieve pretty hairstyles with a plunging square. In our view? A braid on the side, a half-tail or a half-bun and above all, big trend in recent seasons, we focus on accessories. We dare the butterfly clips of our childhood or even the colored barrettes.
How to maintain your plunging square?
If there is one cut that requires meticulous maintenance, it is the plunging square. You have to make sure that it is always impeccable and not change its side parting. Even more, if you wear it with straight hair (the cut is then well marked) and if you have short hair. Perhaps it is necessary to think about planning a hairdresser's budget because the cut deserves to be refreshed regularly.
For those who wish to avoid these maintenance constraints, it is better to opt for a long and very slightly plunging bob. This is the subtle version that Ciara chose in 2019. We wear it like the singer, blurry with slightly longer locks in front.
The prettiest versions of the plunging square to adopt