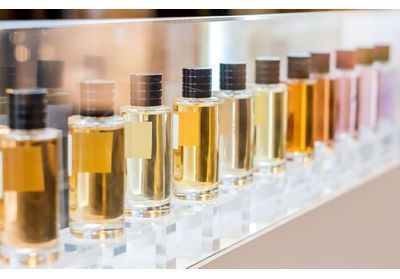 "It's really not you!" When she happens to wear something other than Cerruti 1881 in the presence of her daughters, Anne-Cécile Pouant does not escape the sentence: they do not recognize their mother… So she remains faithful to this perfume adopted shortly after the birth of his eldest, twenty-five years ago. However, there are plenty of opportunities to go elsewhere: deputy director of the Osmothèque, a conservatory dedicated to preserving the international heritage of perfumes, Anne-Cécile spends her days surrounded by thousands of fragrances from all brands and all eras. A chance that this fan of vintage juice still enjoys from time to time: "When I know that I'm not going to see my daughters, I step out of my role as a mother and allow myself to wear something else", admits- she. His little solitary pleasure? Rive Gauche by Yves Saint Laurent, a sublime chypre, iconic of the seventies.
Double olfactory
It is a fascinating thing that this unbreakable link between our scent and ourselves, in the eyes – or rather the nose – of those who know us. Camille Goutal, daughter of Annick and also a perfumer, remembers the time when her mother decided to swap Grand Amour, this masterful floral she had composed herself, for First by Van Cleef & Arpels: "It just didn't work! »
Read also >> Why does my favorite perfume no longer exist?
In the same register, Ines de la Fressange confided to "Vogue" in 2015 that her daughters were "very annoyed" when she tried to wear something other than her signature signature, Mitsouko de Guerlain… Whether it's our mother or that neighbor we always pass in the elevator, we know that the scent of a familiar person ends up becoming a kind of olfactory double, sufficient to give the illusion of his presence. This phenomenon of association, involuntary and sometimes disturbing, testifies to the unique functioning of the sense of smell among our five senses. In fact, when we smell an odor, it lands directly in the so-called "archaic" part of our brain, whose activity is largely unconscious, and where the centers of memory and emotions also reside. A continuous exchange of information between these different areas causes each smell to be imprinted in our memories with the factual, but above all emotional, context of its perception. That's why moms who change perfume sometimes shake real pillars of our memory.
Elective Affinities
Our smell plays a special role in the representation that others have of us. Olivier David, a university chemistry professor and once die-hard Mugler A*Men figured it out from experience. "One day, when I entered the practical work room where I was going to teach, I heard a student say: 'Mr. David has arrived, I smell his perfume." This is where I really realized how much this smell signed my presence. By dint of being carried, our wake ends up literally encapsulating us, for others but also for ourselves: some testify that they feel naked if they leave their homes without having perfumed themselves. It's because this bottle in our bathroom isn't just a good smell: it's us! Corollary: when we change it, we inevitably upset our identity a little. So, where do these desires to move on come from? Of course, our tastes come and go. But new olfactory preferences are often the symptom of a more global evolution. A sign that we "feel" other, literally. Literature teacher and author, Sarah Sauquet has long been a Chanel No. 5 "It was my DNA. But, after my pregnancy, I had the very clear impression that my sense of smell had changed: I, who had always been very alert at this level, was no longer. As if having a baby, and therefore being less focused on myself, had made me lose my olfactory acuity. All my bearings were jostled, and even my beloved perfume began to sicken me. That's where I switched to No. 19." A new number she didn't draw at random. "In my imagination, N° 5 is a fragrance that builds femininity. While No. 19 is that of self-affirmation. When she started wearing it, approaching her forties, Sarah had also begun to change her style of dress. While a look of jeans and boots replaced her traditional dresses, N° 19 acted, in a similar way, the advent of a new version of herself.
Symbolic change of course
"Perfume plays a very big role in identity," insists perfume historian and anthropologist Annick Le Guérant. The one we choose is always related to what we want to show or affirm. This pioneer of scientific research on smell, author of the essential "The Powers of Smell" (ed. Odile Jacob), recounts her passage from L'Heure Bleue to Jicky, from Guerlain, once the page of his (long) study tour. "I changed because my life had changed. I wanted to have a perfume in keeping with this new period that was beginning. And if the perfume also served to delimit the different chapters of our personal history? Whether the approach is conscious or not, it seems in any case that we are more tempted to change it in the pivotal moments of our existence: new job, move, breakup, birth of a child… Adopting a new wake then allows to show progress. And, why not, to provoke it? After all, in the same way that we sometimes go to the hairdresser when there is something new in our life, it also happens that we change haircuts in the hope that something happens. thing ! Smells have a direct impact on our state of mind. Spraying yourself with a different smell in the morning is like putting a new little music on your daily life. A different view of the world…through the nose. When they do not support our personal evolutions, the changes of perfume can also be used to "put under cover" the memories attached to such or such bottle.
If you have ever had the experience of wearing a particular fragrance for a specific moment in your life – a trip, a wedding… – you surely know that smelling it again is enough to bring back the memories. who have grafted themselves onto his scent, and all the emotions they carry with them. "It's a way of remembering important moments, other than by looking at photos," testifies Camille Goutal, who has often received letters from clients describing the happy moments with which they now associate her creations. The olfactory memory has something magical. Crazy about perfumes, Andy Warhol had got into the habit of changing them every three months, no matter what, in order to be able to remember at a glance the terms associated with each of them.
Assumed polyamory
Our relationship with perfume has changed a lot in a few decades. It is no longer a luxury product reserved for the elite. And few are now those who, like our grandmothers, choose one and remain faithful to it all their lives. Since wearing perfume is within everyone's reach, and the spirit of the times is one of permanent self-invention, many of us have decided not to smell the same every day: why settle for just one scent? unique when you can alternate between several, depending on the day and your desires? Admittedly, this olfactory polyamory expresses a form of freedom vis-à-vis one's own identity. A celebration of its multiplicity. But we cannot hide the fact that the industry itself encourages us to be fickle… The idea that each of us should have several bottles rather than just one is obviously beneficial to the brands that sell them, and the now common notions "cloakroom", "layering" or even "mix & match" have certainly contributed to shaping our consumption habits. However, a plural relationship with perfume can also be the culmination of a real personal journey. "After five years in A*Men, I realized that I no longer felt it, Olivier recalls, so I always put on more… Exactly what not to do! Our nose, a warning organ, focuses most of its attention on new smells, because they are the ones that can alert it to danger. Conversely, he gradually gets used to familiar scents that are declared harmless, until he no longer detects them at all. To rediscover the pleasure of wearing perfume, there is only one solution left: change it, even if it means coming back to it a few months later. That's what Olivier intended to do. Except that from a unique bottle or almost… he now has close to a thousand. "Result: my perfume is always in tune with my state of mind, and, on a certain level, it allows me to communicate it to others. Of course, this example constitutes an extreme. But it testifies that, when perfuming ceases to be a "reflex" gesture, it can enter into deeper resonance with our life. And for that, there is no need to have several hundred: a few are enough. If Cerruti 1881 instantly puts Anne-Cécile in mother mode, it is with Le Cri de la Lumière by Parfum d'Empire that she has been working for years. "Some women put on high heels to give the impression that nothing can resist them at work. For me, it's the perfume that gives me this feeling, this stature," she says. Because of their close links with our emotional activity, smells can facilitate a transition to the state of mind that we have associated with them: this is one of the virtues of the incense stick that we burn when we meditates and whose scent, by force, induces a feeling of calm. And also the reason why some actresses adopt a new perfume at the start of each project: it helps them to slip into the skin of their character. There are plenty of good reasons to change perfume. All you have to do is take the leap.