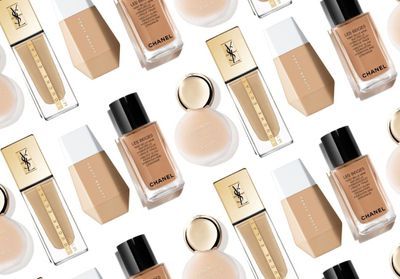 Fluid, compact, powder foundation: which foundation texture to choose?
To achieve a perfect complexion, choose your foundation sometimes is a real ordeal. While normal to combination skin has no real contraindications in terms of foundation texture, the same is not true for other skin types. Indeed, liquid and creamy textures are ideal for dry skin, while foamy or powder foundations (which tend to dry out the skin) benefit oily skin, for example.
The texture chosen also depends on the type of application that is favored. For fluid or sparkling foundations, two solutions are available to us: they like brushes but also willingly melt between our fingers and our face. The compact foundation apply with a sponge when the powders need their puff.
Read also: Beauty coaching: these make-up mistakes that age us
What is the best foundation for my skin type?
Normal skin? Dry? Mixed? Grasse? The nature of our skin is an essential element in the choice of our makeup, especially with regard to our complexion. In terms of texture yes, but not only! The formulas offered by the different brands are not created by chance. Each composition has its benefits and skin type.
Dry and sensitive skin
There is a solution to cover each of the problems that may be encountered by dry skins. These can be dehydrated and therefore need a foundation that is mostly water or a tinted product with a moisturizing formula – like a BB cream. But this type of skin generally lacks fat, which leads to choosing a foundation enriched with vegetable oil to comfort the epidermis. In order to hide redness and other imperfections that can affect dry skin, it is advisable to favor mineral foundations. A concealer can be applied to blemished areas immediately afterwards. Thus, we avoid the surplus of foundation and the mask effect.
Normal to combination skin
These skin types are (more or less) spoiled for choice in the sense that almost all foundations are suitable. It is therefore necessary to choose the desired formula and coverage according to your needs. Women with dull complexions are turning to luminous and radiant tinted skincare products when bright complexions are looking for matte or semi-matte products.
Oily skin
The oily skin tend to shine due to an overproduction of sebum. To counter these unsightly effects, we turn to a non-comedogenic foundation and ban oil-based formulas. We choose it mattifying without hesitation. Liquid or compact, you can combine this tinted treatment with a loose powder neutral or tinted (without any glitter).
mature skin
No more foundations that run into wrinkles. From now on, there are many fluid foundations with a light texture and composed of anti-aging active ingredients which, in addition to protecting our skin, make it possible to unify and smooth it for a naturally sublimated complexion. So ideal for a mature skin !
Foundation 2022: the best products of the moment