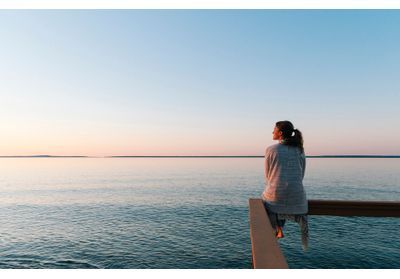 1. SHOOT YOURSELF WITH NEGATIVE IONS
So that our home sweet home is filled with air (almost) as pure as at the seaside, we can invest in a device that generates negative ions, the very ones that are released by the backwash of the waves. "These devices can significantly improve indoor air quality […] in addition to neutralizing odors. On the other hand, there is some evidence that negative ionization, especially at high density, has a positive effect on the Depression ", explains the English researcher Deborah Cracknell in her book "The Sea: a natural therapy for our health" (ed. Guy Trédaniel). Otherwise, we will install a mini-fountain at home whose water, in motion, will also release negative ions into the air… but to a lesser extent
(Teqoya 450, Air purifier for home and workspace, €549).
Read also >> Beauty coaching: should I wash my hair after a day of swimming?
2. WE SMELL IODINE AIR
Nose of the Félicité house, the Breton Caroline Malléjac imagined the "Embruns" candle, scented with salty, marine and invigorating notes, "like a walk on the Douaniers path in mid-season". We let the wick burn for about twenty minutes, then we revel in the oceanic olfactory accords. According to the neuroscientist Michel Le Van Quyen, author of "Brain and nature" (ed. Flammarion), the sense of smell constitutes a direct access route to the hippocampus and the amygdala, "two cerebral structures respectively linked to memory and to emotions". To prolong the experience, we use the sea mist scented with Oligomer, Phytomer's emblematic seawater concentrate made in Saint-Malo. (100ml, €30.30). Verdict: a shower of minerals and trace elements quenches the skin's thirst while enveloping it in a delicate oceanic scent…
3. WE VISUALIZE THE BIG BLUE
To continue this journey from home, the colorist designer Jean-Gabriel Causse, author of the book "Les Couleurs invisibles" (ed. Flammarion), invites us to integrate more blue into our interiors. "Because it is the color of escape and also the one that develops the imagination the most, it is possible for us, simply by looking at blue and summoning our maritime memories, to visualize the ocean", promises this enthusiast. who crossed the Atlantic twice aboard his sailboat. Researcher in environmental psychology at the Center for Functional and Evolutionary Ecology in Montpellier and author of "Natural Link" (ed. Le Pommier), Alix Cosquer confirms that the mere sight of blue provides a feeling of relaxation "with physiological effects such as reductions in blood pressure and heart rate"… which is also measured in volunteers observing the big blue live.
4. WE BET ON IMMERSIVE
Sky Factory markets digital cinema windows open to underwater environments (from €8,000). Studies conducted in hospitals with these virtual aquariums have shown that they reduce patient stress by more than 53% and anxiety by 34%. Less expensive: we can also install an animated wallpaper on our computer and our television set. Finally, if you have a virtual reality headset, go to the Dolphin Swim Club Youtube channel (youtube.com/ watch?v=zUzLvybAGKM) which offers two minutes of free immersion to swim among a group of dolphins wild in the Red Sea. Such a virtual reality experience will also be presented at the Grand Rex on Saturday September 10, during the ConfXperience "Nature guerisseuse" (natureguerisseuse.com).
5. TRY THE SOUND BATH
On the advice of Michel Le Van Quyen, we let ourselves be lulled by the gentle melody of the ocean… The neuroscientist indeed confirms that "the repetitive sounds of the comings and goings of the waves activate our parasympathetic nervous system", which remains associated with a state of calm and relaxation conducive to meditation or a journey into the arms of Morpheus. As proof, most dedicated applications offer such sound stimulation. You can afford the Oceanbox Waves, from Relaxound, whose marine sounds are activated by a motion detector. Finally, we play the sea drum, which can be found at Nature & Découvertes (€59.95) and which reproduces the sound of the waves inspired by rain sticks.
6. SAVOR THE SEAWATER
To rediscover the taste of salt on the lips (and by the way benefit from the trace elements and minerals that seawater contains!), there's nothing like a morning shot (on an empty stomach) of marine serum. These filtered and cold-sterilized seawater ampoules are available in an isotonic version, with a concentration of mineral salts and trace elements almost identical to that of the body, according to the principles of the founder of the method, the biologist René Quinton [1866-1925]) or hypertonic (the saltiest form with a concentration of minerals and trace elements three times higher).
Quinton Isotonic, Quinton Laboratories, 30 vials of 10 ml, €21. Marine beauty cure, 1919 Bains de Mer, 20 vials of 10 ml, €19.90.
7. DIVING IN SEAWEED
To rid our skin of dead cells and to optimize the penetration of marine minerals and trace elements contained in seaweed, we apply, on dry skin, the scrub with oyster shell powder from the Thermes Marins de Saint-Malo (150 ml tube, €28). Then, immerse yourself for 15 minutes in a 36 to 38°C bath in which you will have poured the contents of a sachet of micro-exploded algae from the Thalgo laboratory (10 sachets of 40 g, €37.50). The water turns brown, gives off a characteristic odor… we close our eyes and project ourselves into Brittany during high tides. Then we rinse with water. Also worth trying is the Thalazur kelp seaweed pulp bath (500 ml, €20). Finally, Dr. Marie Perez Siscar recommends applying a transcutaneous marine magnesium oil to the body, "i.e. a seawater concentrate containing more than 40% magnesium", notes the president of Côté Thalasso (Banyuls-sur -Mer, Île de Ré) and the National Professional Association of Thalassotherapy in France (100 ml bottle, €34, to be ordered from co*****@co**********.fr). A tingling sensation on the skin? Apply the Baïja Paris Ocean Body ointment (100 ml tube, €19.90) with pearl and brown algae extract… ultra-comforting.