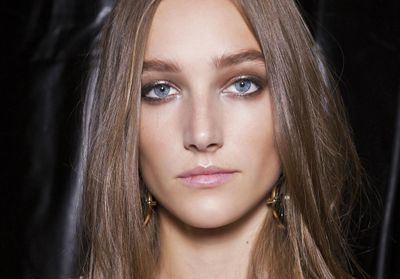 Updated on December 09, 2022 at 10:08 a.m.

It's decided, we're getting pretty for New Year's Eve and we're putting everything on the make-up. But you still need to know how to do a beautiful New Year's makeup… Discover our special holiday tutorial!
Whether you spend the evening with family or friends, the New Year is the perfect occasion to get ready. Be careful that says not to overdo it! We start by working on your complexion for a natural and luminous result. We put on the iridescent, by putting beige or silver eyeshadow on the mobile eyelid. Finally, we can finish with a glowy touch by applying a pink gloss on our lips. In short, a simple and effective make-up, slightly glittery for the occasion. Bruno Vibert, make-up artist in Paris, gives us his tips for creating a nice New Year's make-up.
The steps to achieve a nice New Year's makeup
Apply a make-up base on the whole face with a brush
Apply a face powder adapted to skin tone with a brush
Applyconcealer in small strokes with a fine brush
Applyilluminator on the bulges of the face
Apply powder
Apply a little blush on the cheekbones
Make a thick black pencil line along the upper and lower lashes
fade
Apply gold blush all over the mobile eyelid
Apply gold shadow over the black pencil under the eye
Apply a touch of iridescent beige to the arch
Apply mascara
Apply sequins on the bulges of the face
Apply pearly beige gloss
Thanks to Bruno Vibert for his advice on New Year's makeup.
Some new year makeup models
A touch ofilluminator on a peach complexion, a color on the mouth, sequins around the eyes… Our best make-up ideas spotted backstage at fashion shows:
Read also : 40 New Year's Eve makeup ideas to shine
What makeup to wear on the eyes for the New Year?
With the emergence of new makeup palettes every year it is easier and easier to do elaborate makeup. And on green, brown, blue eyes… glitter is all good. Here are some inspirations for embracing this trend.