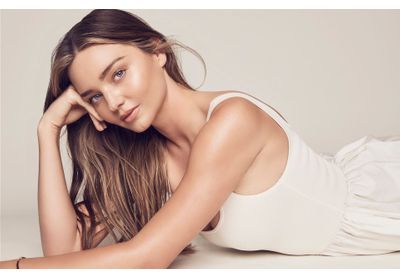 Published on October 11, 2022 at 5:00 p.m.

This fall, Miranda Kerr is launching her beauty brand, Kora Organics, in France. The opportunity for the former model to present her favorite products but also her morning routine. Video.
First Australian model to join the ranks of the Victoria's Secret brand, Miranda Kerr has come a long way since her beginnings as a model in the 2000s. Passionate about well-being and health, in 2009 she launched her cosmetics brand in Australia, called Kora Organics. The topo? Products certified by PETA, organic, formulated with natural active ingredients (papaya extract, saffron, Kakadu plum, etc.) and infused with crystals. A very avant-garde holistic concept for the time! "I'm a big rock fan. During the manufacturing process, all ingredients touch rose quartz to infuse the energy of the crystal. What I want is that when you use Kora's products, you feel this energy of love that emanates from the crystal," she explains. In short, a line that sticks to its values ​​with products that can be used every day. Enough to create a real personalized ritual and "reveal the best version of yourself", as she assures.
Kora Organics arrives in France this fall
In the Kora Organics range? Facial cleansers, moisturizers, serums, body oil and cream and even a Gua Sha in the shape of a heart to massage the face (an important gesture in Miranda Kerr's routine). On the back of each product, there are small words such as "forgive", "revitalise"… The idea? Set an intention on the gesture when you apply your cream, for example. From October 10, 2022, Kora Organics will be distributed in France, exclusively on the Sephora website. On this occasion, we caught up with Miranda Kerr in Paris for a detailed debriefing of her morning routine. In the program ? Her favorite Kora Organics products, yoga, walking and a few healthy habits that we gladly draw inspiration from. Please note that the festivities begin at 5:30 a.m. Yes, the businesswoman is the early riser type. Video.