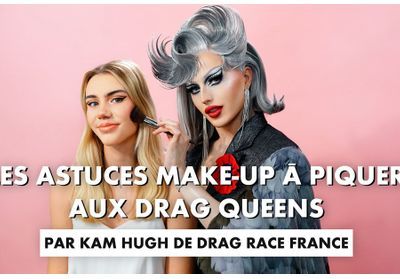 Published on July 07, 2022 at 9:00 p.m.

Discover the best make-up tips to steal from drag queens for your everyday beauty look, with Kam Hugh from Drag Race France.
She is the queen of make-up. Every week, Drag Race France, adaptation of the American program RuPaul's Drag Race, sees the creme de la creme of French drag queens compete in competitions highlighting their various creative talents. Kam Hugh, one of the queens of the cast, shines every week with her beauty looks on the runway. And for good reason, out of drag, Kam has a career as a makeup artist and collaborates with Nyx. On her YouTube page, she gives her tips and has taught many baby drags the basics of good make-up.
For ELLE, Kam delivered make-up tips that can be stolen from queens. How to apply your blush for a modern look? What a tip for refine your nose ? How to properly fix your makeup? How to open your eyes with a queen liner? The answer in video.
[SPOILER SI VOUS N'AVEZ PAS VU L'EPISODE 3]
In this video, Kam Hugh wears one of the outfits that made him the winner of this episode, a look on the theme of French clichés, the reinterpretation of the Parisian pigeon created by the French designer Aymerick Zana, who managed the feat of transforming this animal hated by city dwellers in glamorous clothing. To do this, Aymerick Zana and Kam Hugh imagined a tail coat, reworked with cutouts to widen the rib cage and fit like a Mugler-style corset. Linen, lurex and silver adorn the jacket, accompanied by tapered trousers that reflect the dandy silhouette of the 1930s.
And to know more about the queen, listen to our podcast shot with Kam and Paloma.