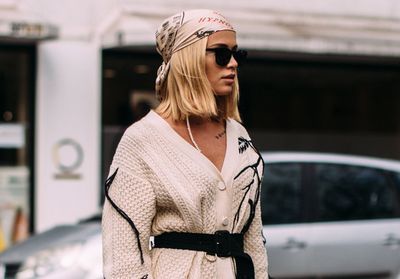 The trend: the straight and smooth long bob
No doubt for the expert, the steep and graphic square remains in trend. This cut is particularly suitable for round face shapes, which it lengthens. Conversely, those who have a very elongated face can shorten it by adding a fringe.
"It's also a new vision of coloring. If the wavy worked well with all that was lightening or sweeping (especially on the blonde), the smooth square, him, goes to all the colors, light as dark. The hair is ultra shiny, healthy and it makes the cut stand out". We therefore opt for a real graphic line to be in the game.
What about the blurred/gradient long square?
Is this the end of the gradient square, blur or wispy lengths? Not quite according to Olivier Lebrun. "For those who have naturally wavy hair and don't want to straighten it, it's better to keep a more versatile blurred bob that allows you to alternate between wavy and smooth. Thus, we have seen a few stars including Julia Roberts wearing the Collarbone Bob or the fuzzy long bob at the collarbone. This hairstyle has probably not said its last word.
To avoid: the plunging long square
On the other hand, we avoid long plunging or asymmetrical squares which prevent a certain freedom: "You must always be impeccable and manage your parting well with this haircut". Moreover, it is still too early to revive this trend, according to the expert, still marked by the square plunging by Victoria Beckham. It is therefore better to opt for a classic long square, without risk.