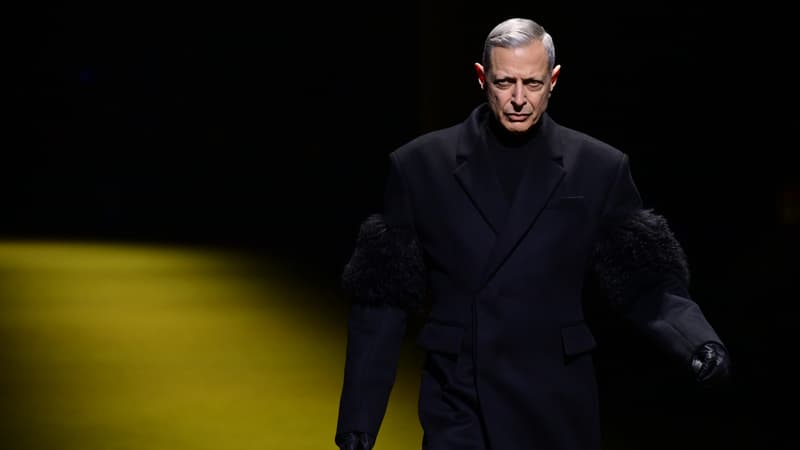 A cast of Hollywood actors presented the brand's new men's collection, which celebrates classic chic while breaking dress codes.
Pure elegance and a slew of Hollywood actors as models: iconic designer Miuccia Prada has struck a chord with her new men's fall-winter 2022-2023 collection that celebrates classic chic while breaking dress codes.
They were ten stars to parade Sunday, sometimes hesitantly, on the ocher carpet of a huge hall of the Prada Foundation in Milan, including Kyle MacLachlan, David Lynch's favorite actor, Jeff GoldblumAsa Butterfield and Thomas Brodie-Sangster.
The Italian fashion house wanted to focus its collection on "real men, recognized figures", who, as actors, "bring a new facet of reality". A dream cast to present what Prada calls its "new uniform" with a clean cut.
Styles collide, colors clash. Strict coats and very fitted blazers with wide shoulder pads, available in grey, black and blue, coexist with fluorescent-hued work suits in technical silk, leather or luxury cotton. Fake fur hems and armbands, colorful gloves, flashy earrings or bulky handbags add touches of fantasy.
Back to work
The collection is embroidered around the world of work, explains Miuccia Prada, 72, who leads the group founded by her grandfather in 1913. "Through these clothes, we emphasize that everything a human being does is important. Every aspect of reality can be elegant and dignified".
"The fundamentals of the male wardrobe are associated with industrial forms, jumpsuits, workwear", a fusion between "sartorial style" and "streetwear", comments designer Raf Simons, co-creative director of Miuccia Prada since 2020 and formerly of Jil Sander, Dior then Calvin Klein.
The collection gives pride of place to post-pandemic life, with the return to work after long periods of confinement, and to a world in motion after the shutdown of production lines and the closure of offices.
Turning her back on the pandemic which has paralyzed whole sections of the fashion sector, Miuccia Prada is also resuming her fight against "fast fashion", this trend characterized by a rapid renewal of the clothes offered for sale.
Her new collection aims to go against these consumer habits: they are "clothes that make people feel important, and which are therefore themselves important and not something to be used and then thrown away", says -she.
Colors at Etro
The Milan fashion week calendar, which ends on Tuesday, has been turned upside down by the outbreak of the contagious Omicron variant, which is spreading at high speed in Italy, as elsewhere in Europe.
After the package announced by the maestro Giorgio Armani, other claws followed and the number of physical parades increased to 16, against 23 originally planned. Eighteen brands have opted for a purely virtual presence, others present their collections in small groups.
Among the fashion shows in the flesh of the big brands, that of Etro, which presented in the premises of the Bocconi University in Milan a collection with fluid materials, a casual cut and bright colors.
The palette of shades imagined by stylist Kean Etro ranges from red, ubiquitous, to black, via orange, beige camel, green and electric blue. Silk shirts, dressing gowns, caftans, Norwegian-style sweaters with geometric or floral patterns, long and loose overshirts and velvet or nylon pants are among the essentials of the Etro man.