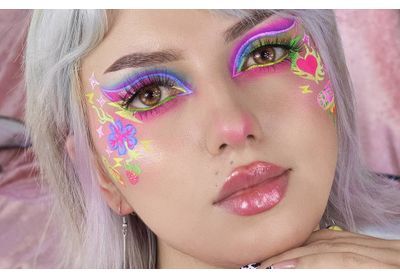 After the barbiecore trend, which consists of adopting pink make-up worthy of the famous doll, fashion is now kidcore. Quesaco? Colorful makeovers, inspired by children's drawings with a psychedelic twist. In the program ? Bright colors, smileys, stars and rainbows. We bet on colored liners that bring out the eyes, ultra-marked mouths and if we wish, we draw small patterns on the cheeks.
On social networks, videos of Internet users trying out the kidcore trend are popping up here and there and the hashtag #kidcoremakeup has accumulated hundreds of thousands of views on TikTok. It's a real way to awaken the child in us and show all the creativity we are capable of. To achieve this trend, a single watchword: you have to be au-da-ciel. In short, a phenomenon opposite to the " clean look " which until then monopolized our Instagram and TikTok feeds.
How to adopt the kidcore trend?
"For many, kidcore is synonymous with bright, highly saturated colors and flashy '90s style highlights, but to me, it's really anything that makes you happy with a hint of nostalgia." , explains make-up artist Serena Adelaide to the American media " pace ". While embracing the kidcore trend might seem daunting at first, there's a pretty easy way to try it out, as the makeup artist explains: "You can start by applying a blush that you really like. With a brush, or fingers, tap it gently on the cheekbones and apply what is left on the bridge of the nose. Like this, it's an everyday look, but you can amp it up with bright colors on the eyes and lips. And if we want to play the game thoroughly? Nothing's easier ! You can add a few star-shaped stickers on the face, small rhinestones or even bet on XXL false eyelashes. One thing is certain, do not be afraid of extravagance. Here are some looks that we're inspired by.