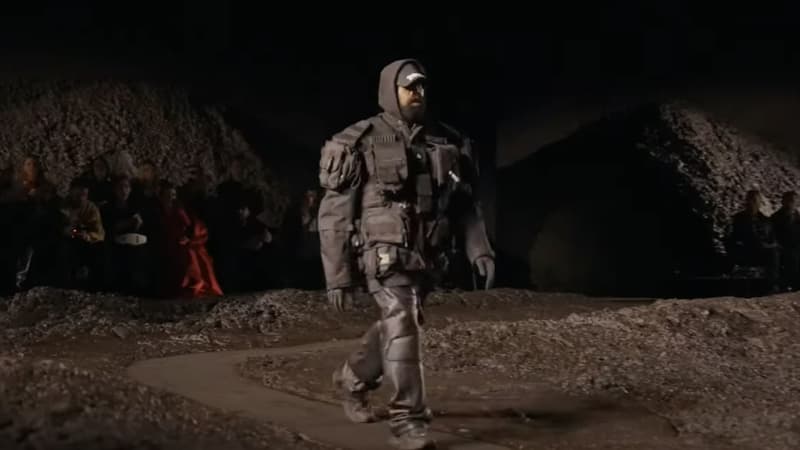 The American rapper inaugurated the summer 2023 fashion show of the Spanish fashion house organized this Sunday in Villepinte as part of Fashion Week in Paris.
Cap under a hood, leather pants and black jacket with multiple pockets, wearing big sneakers, the rapper Kanye West inaugurated this Sunday the summer 2023 parade of Balenciaga organized in Villepinte, north of Paris, for Fashion Week.
The artist's ex-girlfriend and Balenciaga muse, Kim Kardashianwas in the front row of this dark and disturbing parade, which took place in a construction site setting with a strong smell of mud.
Utility outfits, baby carriers, dresses and stilettos
The male models were the stars: sometimes in shorts and black bombers, sometimes in a fluorescent green set consisting of shorts and a hooded sweater between sportswear and interior outfits. White jeans were stained with mud.
Some of them sported baby carriers or colorful and childish handbags reminiscent of stuffed animals as accessories. Others had large pink shopping bags or square shoulder bags with an integrated sleeve, the highlight of this spring-summer 2023 collection.
The women, on the other hand, were chic for this mixed fashion show on the sidelines of Women's Fashion Week. They were treated to stiletto heels to tread the mud, which the men had to face in clogs and sneakers.
Tight pink, white or black dresses, sparkling and transparent outfits in chromatic dialogue with the mud, silver or train dresses: they seemed ready to leave this anxiety-provoking universe and go party.
More press release for its fashion shows
After recently announcing that he was abandoning his name Gvasalia in the fashion world, where he now presents himself by his first name alone, the Georgian stylist from BalenciagaDemna indicated this Sunday that he would no longer explain his collections.
As a "visual art," fashion "needs no history to be sold," Demna stressed in the show's note of intent, seeming to join the many designers who don't accompany their show d 'no press release.
"I hate the frame and the labels", continues the one who nevertheless likes to show off the Balenciaga logo on his creations.
In March, the previous ready-to-wear parade of Demna, who as a child had fled Georgia in the middle of the war with Russia, had been a vibrant tribute to Ukraine, which was living the first days of the Russian invasion .