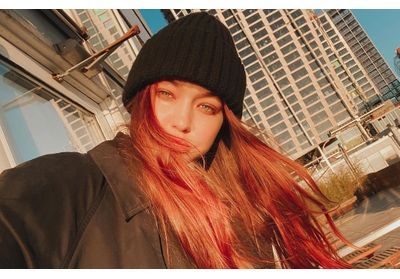 In 2021, for her big comeback on the catwalks after giving birth to her daughter, Gigi Hadid opts for a radical hair change. Exit the Californian blond, the young woman reveals a flamboyant red. Very quickly, the trend is launched. Kendall Jenner, Shay Mitchell, Nicole Kidman and all the influencers of the moment succumb in turn to this coloration. Something to give us ideas. But how to succeed in adopting it without going through the disaster and regret boxes? Gianni Coppahairdresser and founder of the salon R'Factory in Paris, gives us all his tips.
The flamboyant redhead of Gigi Hadid: the decryption of a pro
"It's the hit of the moment: a flamboyant red with red undertones. In winter, it is the perfect color to restore luminosity, especially to pale complexions. It's the right solution to bring a boost to your look. But before getting started, you need to know two, three important little things. It is an even color from root to tip. As a result, it is very engaging because we have a root effect to maintain. Another important point: the roux is not for everyone. It will particularly enhance fair skin and eyes (green and blue). For the others, it will be necessary to play with the nuances. »
What shade of red should I choose according to my complexion?
"For fair skin, flamboyant red like Gigi Hadid and very orange versions will sublimate their doll complexion. On the side of dark skin, brown red shades are ideal. For dark skin, it will be necessary to turn to the mahogany color. »
What shade of red to choose:
If I'm blonde… Gigi Hadid is the perfect example. We dare the flamboyant red but also a pretty copper beige which is characterized by a mix between blond and copper or even an orange red. We can go through two techniques: a total coloring (which will have to be maintained every 4 to 8 weeks depending on the regrowth) or a red sweep.
If I'm brunette… We prefer shades of autumn leaves, like Kendall Jenner's latest coloring, ranging from coppery brown to coppery mahogany. It will be necessary to work in reflection thanks to a light sweep to enhance the dark bases and illuminate them without commitment.
If I'm brown… It will be necessary to turn to flamboyant shades as for blondes or discreet coppery browns. On the technical side, it is preferable to opt for a scan rather than an overall coloring.
If I have white/gray hair… In this case, the shade will be adapted according to the complexion, and not according to the color of the hair.
How to maintain your red color?
"To maintain your flamboyant red – and all the other shades – it is necessary to opt for a protective color routine. You can also use pigmenting masks to give pep to the color and prevent it from fading. This can be with each wash or more spaced out depending on the desired result. »