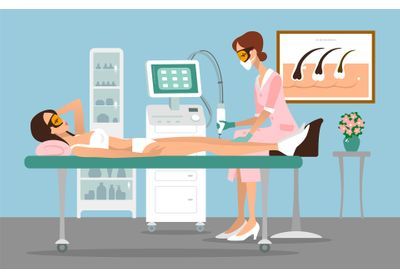 "I can't, I have laser between noon and two. At a time when we make an appointment for so-called "permanent" hair removal, just as we make an appointment for a brushing in a hairdressing salon, the centers oflaser hair removal or pulsed light abound. It must be said that the promise of having no more hair is attractive for those who are used to depilating each month with wax, depilatory cream or even a razor. The only problem: the practitioners there have, in theory, been trained by a doctor, but they are generally not part of the medical profession and therefore do not always have the right reflexes. Some centers don't get good press and it's not uncommon to hear dissatisfied clients after excessive regrowth, lack of care, or even burns.
Are the burns exceptional? It's actually an undesirable effect that happens more often than you think, according to Dr. Catherine Lacharme of the Center du Champ de Mars in Paris, a center made up exclusively of doctors and surgeons. "There are two things in general that can lead to a burn. The first is if the patient does not respect a series of recommendations that we make beforehand: do not apply self-tanner, do not expose your skin to the sun in the weeks preceding the session, prevent you from taking drugs for example. During the session, it is really necessary to have a skin devoid of any cosmetic product, not stimulated by the sun or to inform the doctor. The second comes from the practitioner. The difficulty is to find the right setting of the laser according to many criteria including the phototype of the patient among others. This is why the quality of the interview is very important. On the other hand, if the patient's skin reacts, it is also necessary to know how to take the time to observe the reaction of the skin and to adapt the parameters accordingly. »
"I saw a dermatologist who told me it was not normal"
Mélanie Mendelewitsch, journalist, tested one of the leading centers in permanent hair removal, currently being sued, as part of his work. She has very bad memories of it: "I had a complete questionnaire, but the problem is that the girls don't know how to use the machines. After two sessions of pulsed light no problem, I felt that it was burning during the third and the practitioner told me that it was normal and that it happened. It wasn't unbearable but I felt it was strong. She took a break, continued the session until the end, I was still in pain. »
The pain is not always alarming for the doctor, especially in the case of laser hair removal. "When you pass the laser, it is normal to feel pain but it should disappear quite quickly and at the end of the session, it should no longer hurt. For each patient, I will evaluate and adapt the settings. It is a complex mechanism of action that must be fully understood before using it. »
Melanie returned home and discovered blisters. Her burns remained on her legs for several months, so much so that she went to consult: "I saw a dermatologist who told me that it was not normal and that my hair had been sensitized. »
Caroline was also burned in one of these centers where clients follow one another: "I had an interview of one hour beforehand which was quite serious where I was asked lots of questions and warned about things not to do. not do during my treatment. The first session went well but in the second, I felt quite strong tingling. I warned the girl who waxed me several times, but she insisted for a long time on this area where there was, in addition, almost no hair! »
The paradoxical regrowth
Another common case? Some people experience significant regrowth after laser hair removal sessions. Doctor Lacharme specifies: "The risk of paradoxical regrowth during laser treatment, mainly on the cheeks, neck and chin in women and on the shoulders as well as the back in men, must be anticipated and controlled by the practitioner. Instead of stopping or slowing down the treatment, the centers that take care of them intensify them, increasing their turnover at the same time. The doctor says: "Patients have started laser hair removal. At first, the first sessions went well. The hairs grow back less quickly and are less dense. And then, often around the fifth session, it reverses. The hairs grow more numerous and over a larger area. Panicked, patients resort without reassessment to more and more sessions to remedy this, which can aggravate the situation. To avoid it as much as possible, you have to apply prevention methods and know how to adapt your treatment in time. When we have to treat paradoxical regrowth, we then offer either electric hair removal (note: medical equipment very different from epilators to remove hair yourself), or we continue the laser in a different way but we left anyway for hard work and above all for a substantial budget".
Burns, regrowth… So many undesirable effects that can have serious physical and psychological consequences. Hence the importance of being taken care of by a doctor who will be able to adapt his treatment to preserve the health of the patient rather than being in a logic of profitability.
Doctor Lacharme warns: "You have to be vigilant. At each session, it is absolutely necessary that there is an evaluation and a medical reflection. If signs of abnormal regrowth are observed, it is necessary to know how to stop in time and reassess the benefit of laser treatment. On the areas at risk of paradoxical regrowth and if the density of the hair allows it, it is sometimes more judicious to treat only by electric hair removal from the start. »
"I had no more hair but they insisted that I do one more session"
The importance of having adequate expertise is paramount. Although they have been trained by a doctor, the practitioners of aesthetic centers do not all have the follow-up or even diagnosis reflex. For example, they will not always be able to detect disease. Dr. Lacharme explains: "As a doctor, when a patient has significant hair growth that she wishes to treat with laser hair removal, I will ask myself the question of its cause and screen for a potential underlying pathology, prescribe a blood test, or even send it to a fellow endocrinologist, for example. » Necessary and yet not systematic care everywhere.
Customers of hair removal centers also complain about the after-sales service. Mélanie Mendelewitsch confirms: "I took a picture of my burns and I contacted the institute by email to find out what to do and they didn't even bother to answer me. Some time later I had the customer service manager who was obnoxious and didn't want to hear anything. She blamed the customers saying that they had not respected the safety measures, that they had exposed themselves to the sun etc. But personally, it was not my case and I was still burned. She didn't want to hear that there was a real problem of staff expertise and training. »
When the journalist inquired about the center after being burned, she quickly realized that she was not the only one and that a large number of customers shared the same disastrous experience: "I saw a ton of negative reviews on Google but later they disappeared, I think they cleaned them up".
Caroline also had to insist that her burns be taken into account: "When I got home, I saw that they were changing color and that it was not happening as usual. I spoke with the institute who recommended a healing cream. However, the marks lasted for several months and I was unable to expose myself to the sun all summer. I finally went back when my skin felt better because I still had two sessions to do. Afterwards, it went well. At the end of the fourth session, I had no more hair but they insisted that I do one more session because I had signed up for five sessions at the start. I had to fight not to do it and not to pay it. Fortunately, I am a buyer and used to negotiating otherwise I would not have had a commercial gesture! ".
These centers often offer a package with a fixed number of sessions that must be paid for in advance. Not very logical when you never know how your skin will react and how many sessions will really be necessary.
"The problem is that we go there like when we go to have a waxing institute but we forget that it is a medical act", concludes Mélanie Mendelewitsch. "Where a doctor must have an irreproachable ethic towards his patient, a center can afford to lose a client because they operate in a chain. A profitability that definitely raises many questions.