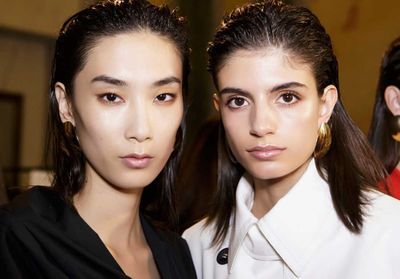 In France, 26% of women (source: Kantar, 2017) do home coloring. Among them, a large majority do it for camouflage white hair, the others to try out light-catching reflections, go for a fun color on the tips or even lighten the natural base in a tone to soften your face. A success of the home made camp that cannot be denied. Leader in this niche, L'Oréal Paris has already sold 33 million products, i.e. a total amount of 251 million euros in just one year (source: IRI, 2017). This means that the market remains dynamic. "By choosing to do your own color, not only do you save money, but you also follow the "do it yourself" trend, which promotes a more intimate experience of beauty, closer to your own needs. Home color also represents the technical gesture, that of the professional hairdresser, who comes to you", explains Nathalie Rozborski, deputy general manager of the NellyRodi trend office.
Internet has also boosted this market. Thanks to the many tutorials on the subject, beauty has become more democratic, and the specialist's know-how has also been demystified. Change color? Not even afraid, especially among the youngest. On the strength of this observation, the brands were quick to create tailor-made offers (clearly, pink, blue, etc.) and to call on influencers to promote them. Especially since, as Nathalie Rozborski points out, "Millennials worship color in all its forms, including hair. Coloring is a bit like the new make-up, we change it according to our desires". But, whether to camouflage its first white hair or to make pink highlights, making a color yourself remains an experience. Experienced specialists share their secrets with you to make this intimate encounter a real success.
Dye your hair: choose the right home color
Faced with the coloring department, there is still a 99% chance of getting the color wrong, as the choice is vast. Especially since we often see her hair darker than it actually is, specify the colorists. Those who see themselves as brown when they are brown are legion! That's why it's better to choose a two-tone color below your own.
Successfully coloring at home by focusing on the right texture
There are three types of homemade coloring textures. Foam is by far the easiest to apply since it applies like a shampoo. The cream formula, on the other hand, provides the ideal additional care touch for dry hair. The gels, rich in pigments, are designed for women looking to obtain a very intense color, especially those with very dark hair.
How to apply your hair color yourself: the gestures of the pros
If you are applying a light color, from light blonde to dark blonde, start with the lengths, mix, then apply the rest to the roots. Conversely, for a dark color, from chestnut to black, start with the roots and finish with the tips. The result will thus be more natural with a tone-on-tone coloring.
Avoid burrs
To avoid traces of coloring on the forehead or the times, remember to coat your skin with a greasy moisturizer before applying the dye.
Hiding white hair, yes but…
The White hair are the number one reason why people color their hair repeatedly, even if camouflage has its limits. If the hair is all "white", it is better to go see a specialist in a salon, especially if it is the first time. He will develop a custom color adapted to the base of the hair, but also in harmony with the complexion. When you only have a few white hairs scattered here and there, or a not too large mass (less than 60%), you can very well bet on a home coloring kit.
Make your home camp last a long time
No nickel color without healthy hair, well-closed cuticles and a smooth surface. The trick of the pros: thevegetable oil for hair. Applied to dry hair, it smoothes the fiber and evens out the degree of color penetration over the entire length. The assurance of a homogeneous result from root to tip. Good to know: this preparation only works when it precedes oxidation coloring. At the end of the coloring operation, you should not neglect the care step either, which neutralizes and fixes the color. All kits contain one, so why deprive yourself of it? In weekly maintenance, from shampoo to conditioner to mask, we choose special formulas for colored hair. Repigmenting or not, they maintain radiance until the next touch-up. To avoid: aggressive shampoos, in particular those that are overdosed in sulphates, anti-dandruff and formulas for oily hair, which are too "stripping". Finally, despite all these precautions, some pigments will always remain more fragile than others. Redheads bleed a lot, while very light blondes have an annoying tendency to yellow.
Beware of strong colors
As the years go by, it's not just the color of the hair that changes, the complexion also changes in tone. It becomes less bright. Exit, therefore, colors such as raven black, orange red which accentuate the marks of time. We are also wary of shades that are too ashy or cold. Although less spectacular, they are no less treacherous for anyone born before the 1980s. After 40 or 45, it is better to bet on warm tones, such as caramels, which soften the features and give a healthy glow. In any case, it is always wiser to stay close to your natural color, without trying to modify it to the extreme.
Turn platinum: good or bad idea?
Switch to blond-white, right away like the tops? Don't even think about it! Radical transformations require a powerful oxidant, dosed at 40 volumes (this is what hairdressers use). Those contained in the home kits go up to 20 volumes, just enough to open the scales of the hair and promote the penetration of pigments. But this is not enough to completely peroxidize the fiber. At best, we will obtain an improbable red, far from the expected baby blond. Change from brown to platinum blonde requires powerful products, careful application, as well as continuous monitoring of the process, in short, the know-how of a seasoned colorist. So would it be easier to go from blonde to raven black? Not even. The risk of ending up with khaki hair is just as real, say the pros. Embarking on a radical color change alone is like cutting your own boyish hair right after a breakup… A false good idea!
" Cheating" between two appointments at the hairdresser
Home coloring is also a good solution to wait before returning to the salon. On the other hand, it is important to respect certain rules. Especially if you choose a permanent color. Apply the formula to the visible roots only and lengthen the color very slightly, without insisting, on the lengths, for a perfect match. The risk if you spread the pigments evenly to the tip? A smoky effect that will tarnish and permanently darken the color. The zero risk option: special regrowth powders. Colored, they vaporize and are eliminated with the next shampoo. Hairdressers love them.
Adopt the silver touch
Letting your hair turn white or gray is the trend to follow very closely. Like the journalist and author Sophie Fontanel, many women feel the urge to wear beautiful natural hair, white or salt and pepper. But, be careful, from natural to neglected, there is only one hair. White not only has a particular texture (dry, thick, frothy, etc.), but also a major defect: it turns yellow. Fortunately, there are specific treatments to restore radiance, shine and suppleness.
Daring pastels " I'm a licorn "
One day in green, another in pink… It's cool, but when you care about your hair, it's better to choose ephemeral colos. Devoid of oxidants, they cover the fiber without altering it and are eliminated after several shampoos. For a more lasting result on a lock or half of the lengths, this area must first be bleached in white blond at the hairdresser, especially if the base is very dark. To avoid the My Little Pony effect, do not change color every four mornings and treat the lengths with nourishing masks.
And in case of beauty faux pas?
We wanted to subtly cover some white filaments and we end up with a "helmet" because we left the product on for far too long? Above all, don't panic. First solution: we run to the hairdresser. Second solution: the good old anti-dandruff shampoo. Apply it pure, directly to dry hair, from roots to ends, and leave it on for a good half hour before rinsing. The color will fade and lose intensity. Another technique: the olive oil bath, which is left to sit overnight under a charlotte. This attenuates the result by a semitone.
Switch to vegetable home coloring
At the time of everything natural, the plant coloring gained more and more followers. Based on henna and tinctorial plants (indigo, amla, etc.), its pigments are deposited on the hair and intensify its natural color. Its advantage? No root effect to fear. The color fades with successive shampoos. Another advantage: care. By coating them, the natural pigments protect the hair and give it shine. But the process has its limits. We will never be able to lighten the hair since there are no oxidants in the formula (read the labels carefully, because we sometimes have surprises…). In addition, the coverage of white hair will remain light, even insufficient if you have a lot of it.
We can also turn to the natural coloring. Halfway between chemical and vegetable coloring, this alternative between care and dye promises not to alter the beauty and health of our hair.
Are you a fan of coloring at home?
Thanks to Christophe Robin, Steven at Olab Paris, and Rodolphe from Couleur par Rodolphe.
This article was published in ELLE magazine. Subscribe here.