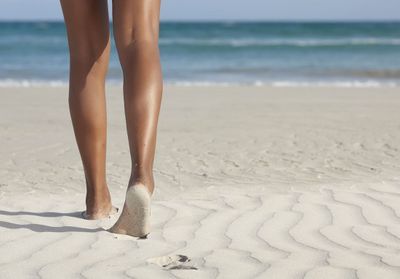 A bit like the hand scrub, the exfoliation of the feet is an undervalued gesture and too little done. Yet it is one of the key steps in the pedicure. Here are some recipes to have pretty soft feet without calluses.
Read also: Beauty coaching: how to adapt my skincare routine to summer?
An easy foot scrub to make at home
Exfoliation is one of the easiest treatments to do at home. We prepare one by combining ingredients that are in our cupboards:sweet almond oil and sugar. Mix a teaspoon of sugar for a tablespoon of oil. The alternative ? Replace the sweet almond oil with olive oil and the sugar with coarse salt. We then massage in a circular manner on all of the feet, insisting on the soles and heels, before rinsing with plenty of water. Foot scrubs should be done once or twice a month.
Foot scrub with baking soda
It is an essential. the baking soda replaces dry shampoo, gives us a fabulous smile by bringing shine and whiteness, has relaxing properties once immersed in bath water… And gently exfoliates the skin. Create a paste with 3 parts baking soda to 1 part water and use it as a foot scrub. Easy and efficient.
Scrub for very dry feet
In their book "Homemade beauty products" (Editions Larousse), Juliette Coggin and Abi Righton show us step by step how to make a nourishing scrub with chia seeds and pink clay (about 200ml).
-Step 1: Put 16g of chia seeds and 14g of pink clay in a ramekin. Bake for 30 minutes (th. 3-4). Put the other ingredients (14g of Shea Butter, 20 g Olivem 1000, 3 ½ tsp. at s. rice bran oil, 5 ½ tsp. c. ivy-infused glycerin, 10g virgin coconut oil, 4 ¾ tsp. c. jojoba oil, 20 g manuka honey) in a heatproof pot.
-Step 2: Put the pot in a bain-marie in simmering water and heat while stirring until the ingredients are melted (about 60-80°C).
-Step 3: Remove the pot from the heat and pass the mixture through a blender or a mousseur. Leave to cool, add the chia seeds and the clay, then 10 drops of bitter orange petitgrain essential oil and 10 drops of lemongrass essential oil. Mix well.
-Step 4: Pour into a sterile jar where the product will freeze but stirring while it solidifies so that the seeds and clay disperse well. Close hermetically.
Editor's note: Beware of essential oils which can be irritating and are particularly not recommended for pregnant or breastfeeding women. Before use, seek the advice of your general practitioner.
Also discover the foot scrubs to shop for girls in a hurry