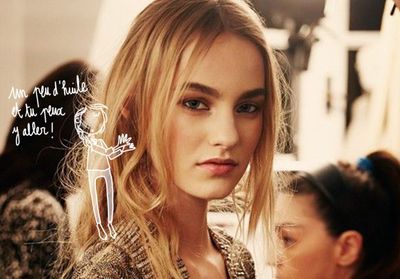 We space the shampoos when we have dry hair
Wash your hair every day ? Bad idea. Yes, too frequent washing leads to long-term weakening of the scalp and scales and promotes dryness throughout the hair. Ideally, hairdressers recommend having one (or two) shampoos every three days to preserve the quality of the hair and prevent it from breaking. For those who accumulate inconvenience and who also have oily roots (it happens), a little bit of dry shampoo or a nice bun on the third day and you're done!
Read also: Beauty coaching: good or bad idea to wash your hair daily?
Avoid aggressive coloring
You probably already know that repeated "chemical" coloring can damage the most fragile hair or the most sensitive scalps. If we all know that our hair does not tolerate the action of certain active ingredients contained in colorings very well, we cannot help but think of the beautiful reflections they will bring us. Yes, but at what price ? In fact, if our hair already has a dry nature, coloring it frequently will accentuate this aspect. We therefore try to space out the applications as much as possible. And if we have white hair to hidewe alternate with colorings with natural compositions less aggressive.
We combine mask and hair day cream
To the question "can we apply a day cream for the hair after having already put on a mask? ", The answer is yes ! If you have damaged hair, do not hesitate to do everything possible to pamper it. the mask for dry hairwhich is done once or twice a week, has the effect of hydrating and deeply nourishing the hair while the day cream, used daily, is used to sublimate, moisturize the surface and discipline the lengths.
We put oil to nourish dry hair
L'oil on hair, it works and it is not a legend. So if we have dry hair, we go there, we put some and we put some more. Thanks to the new formulas developed, the hair quickly appears smoother, more supple, less rough, more beautiful, what! And all this without weighing down. On the other hand, if our lengths are delighted to be brushed with oil several times a week, the scalp can be resistant to the concept and with the risk of ending up with roots worthy of three weeks of "no-poo". This is not the goal, you will agree. When you have an oily scalp, you are therefore content to limit the application to the lengths, emphasizing the ends.
We moderate the use of the straightener
Information that is not a scoop but which needs to be mentioned again (a little reminder shot never hurts): the straightener damages the hair. Yes, your smoothing at the Jennifer Aniston at a price and your hair knows it all too well. If your hair is dry, using the straightener will make it worse, the high heat (>180°) causing the scale to deteriorate. We then try to take break days during which we leave our straighteners in the closet in favor of a more flexible or curly movement. Needless to say, it is strictly forbidden to use your plates on damp or wet hair (unless your straightener is designed for it). Finally, do not hesitate to brush your mane with thermo-active care which, under the effect of heat, will release protective active ingredients and give the hair a shiny appearance.
We do a pre-shampoo
A what ? A pre-shampoo. As its name suggests, it must be done before shampooing. The idea: apply a treatment to the entire hair for a longer or shorter period of time before taking a shower. If you do your shampoo in the morning, then we advise you to leave the treatment on your hair all night, in case you don't have the night ahead of you, cover the treatment with a thick towel heated in the micro- waves. The heat slightly opens the scales and thus allows the product to penetrate deeply. You can also choose to leave an oil on before the shampoo, for this prefer hydrodispersible oils such as Alès oil which is perfectly eliminated in contact with water.
Read also: The best in-salon rehab treatments to repair damaged hair
We choose our products well
This is one of the first rules to follow. The products you decide to apply to your hair play a crucial role in its well-being. You can follow the recommended steps to take care of dry hair to the letter, if the products are not of high quality, your hair will remain damaged. To be sure not to go wrong, automatically go for treatments whose formula has been specially designed for dry hair and does not contain silicones and/or sulfates (in the first ingredients of the list at least). Silicones give the illusion that our hair is smoother and shinier but ends up smothering the hair. Another very important point: choose the right brush. Yes, this point is too often neglected by being content to pass on the occasion a little brush stroke negotiated three euros on a market on vacation. Bad idea. The brush is a real ally for your hair and it must be chosen with care.
Read also: Our pick of the best hairbrushes
We cut the tips if we have dry hair
For many reasons it is important, approximately once every three months, to do a little refreshment and this consists of cutting the split ends. This beauty reflex allows your hair to appear less damaged but also to activate its regrowth. So, even if you are one of those who have, once in their life, crossed paths with a crazy hairdresser (the one for whom 1cm is equivalent to 10cm), be strong and try the experience again. Your hair will give it back to you.
We protect ourselves on vacation
The sea, the salt, the chlorine, the sun, a lexicon that smells like holidays and… dry hair. If in a bikini, lying on the hot sand or on a deckchair in the sun, we love the textured and discolored wavy style of our hair in summer, when we return to school, we immediately find the result less pleasant. The hair is rough, the color has turned, the lengths are dehydrated and the magic of summer is far behind us. To avoid finding yourself in this uncomfortable scenario, we protect our hair during all the holidays with targeted care and don't forget to wash them well after bathing in salt or chlorinated water.
We say goodbye to the hair dryer to repair dry hair
It's very practical a hair dryer, we agree with that but we must recognize that it is not ideal for dry hair. The heat opens the scales, weakens the hair and generally gives (if there is no brushing) an even more blatant foamy effect on dry hair. To do well, wash your hair at night and let it air dry after wringing them out in a large towel (caution: do not convulsively rub the hair at the risk of weakening it). If you have a long mane and the feeling of your damp hair on your back is hard to bear, you can braid it: wavy effect guaranteed. In the event that it is unthinkable for you to give up the routine of the hair dryer, get into the habit of applying a heat-protective treatment to the whole of the hair which will act as a shield.
Homemade recipes: yes or no?
Yes and no. In reality, the homemade cosmetics recipes are a good alternative for small budgets. But according to hair professionals, some are heavy for the hair and are no more effective than the products that can be found on the market. In other words, if you have an irrepressible urge to brush your head with a mixture of eggs and olive oil, nothing prevents you from doing so. Just remember to plan a substantial time slot and a few bottles of shampoo to remove all traces of homemade mask.
*Thanks to Cannelle Gruette-David, Phyto Capillary International Marketing Director and Diane Madre, specialist in formulas for dry hair at Phyto, for their valuable information.