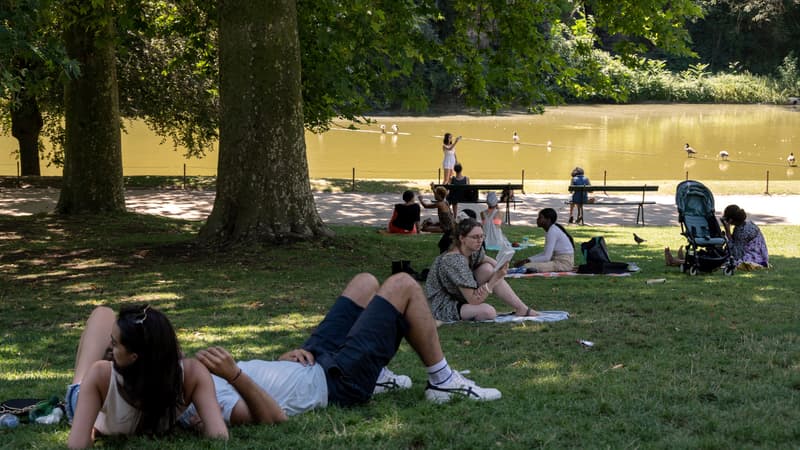 As the next summers look to be hotter and hotter, fashion and upcoming collections seem to be moving towards more suitable clothing.
In a few years, your wardrobes may be filled with "onion" clothes, made up of several layers. "We already have designers working on it," explains Vincent Grégroire, prospective director at NellyRodi, a consulting firm specializing in the "creative industries" sector. This trend hunter also sees the emergence of convertible clothing, such as a jacket whose sleeves can be pulled back or pants that turn into shorts.
"It was already in the research but here it is a clear trend: comfortable clothes that can adapt to sudden changes in temperature."
After a summer of 2022 of all records, fashion is thus preparing for the effects of global warming. "This is a problem that has been identified for a long time", assures BFMTV.com Thomas Zylberman, senior stylist and trend setter at Carlin international. "It's starting to be in the priorities of the brands and in their plans over several years", abounds Vincent Grégoire.
looser clothes
"The idea is to be able to dress and undress easily", summarizes Sébastien Renault. Artistic director of the Promostyl trend office, he already notices an evolution of the wardrobe towards practical and airy clothes. He notably evokes the arrival of openwork or even barefoot sneakers.
"We notice that the collections are inspired by the outdoors, trekking. We are already seeing that consumers are turning more and more towards light clothing, for example those found in sports stores."
From the point of view of the cut, make way for loose models. In short: no more clothes that corset and compress – even if our specialists concede that leggings still have a bright future ahead of them. "We no longer want to be cramped or feel cramped like in the early 2000s," observes Sébastien Renault, from Promostyl. He even guesses a "monastic" trend: more fluid, longer and less fitted clothes.
"We have already seen the appearance of tunics or wide shirts this summer. The formal will become urbanthe wardrobe will relax with, for example, more elastic materials, such as stretch."
Vincent Grégoire, of NellyRodi, formulates a similar prophecy: "We are going to work more and more on the possibilities of air circulation, as with indentations under the arms, openwork clothing." Thomas Zylberman, of Carlin international, predicts in the same vein the advent ofoversized.
"It's typically the large unisex oversized jacket that works in all seasons, a perfect translation of this loose garment trend that protects against heat and lets air circulate."
Techwear and natural fibers
In terms of materials, Vincent Grégoire, from NellyRodi, identifies two currents that will prevail in the years to come. On one side, the techwear – that is, clothes that incorporate technical and innovative materials. Like this textile made of synthetic fibers coupled with nanoparticles and Teflon which reflects light.
And on the other, a resurgence of natural fibres, particularly linen and hemp, which are more ecological and less water-intensive. "We are in the process of rediscovering their properties", confirms Thomas Zylberman, of Carlin international. Particularly interesting materials in times of climate change: they are breathable, antibacterial and moisture-absorbing materials. "These are excellent thermoregulators", continues Sébastien Renault, from Promostyl.
The other strong trend is the use of recycled materials. "Everyone is getting into it," he agrees. Vegetable leather made from fruit waste, recycled bottle sneakers, dandelion rubber soles, pineapple clothes…
As for the collections to come, they promise to be less marked between winter and summer. "This is already the case today, some summer collections are starting to look like winter and winter looks like summer," notes Thomas Zylberman, from Carlin International. "Besides, the collections will have a very broad spectrum to respond to all thermal amplitudes."