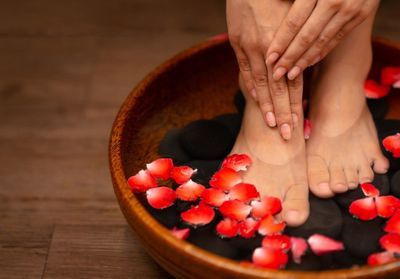 Well known, sometimes forgotten, the footbath, as its name suggests, is an ancient practice that consists of soaking your feet in water up to your ankles. And it is with Cécile, beautician at the Thermes Marins de Saint-Malo, that we took stock of this practice with undeniable relaxing virtues and other underestimated benefits. The expert gives us her advice for a hassle-free homemade foot bath and even slips us some recipes from grandmothers. To us the pretty feet !
What are the benefits of foot bath?
In addition to its primary function, that of granting us a moment of rest and relaxation out of time after a long day, the foot bath (and the virtues of water) has a beneficial effect on our health. In fact, in addition to attenuating the heavy legs effect, it makes it possible to relaunch the blood circulation and even to treat certain ailments, certain pains such as chronic rheumatism, of which osteoarthritis is a part. A foot bath can also help reduce oedema, treat a blister or even a mycosis, on the sole condition of drying your feet thoroughly afterwards. Finally, from an aesthetic point of view, it is ideal before a homemade pedicure.
Pro tips for a homemade foot bath
How to make a foot bath at home?
For a classic foot bath, start by pouring 4 to 5 liters of water into a basin (or other container available at home). The goal is to have water up to your ankles. The basic recipe consists of adding coarse salt for a relaxing effect. Then immerse the feet for an average of 10 to 15 minutes. It is important never to exceed 20 minutes in the water. The recommended average temperature, meanwhile, is 37°C "except for people with significant venous problems such as varicose veins. In this case, the temperature should not exceed 32°C", indicates the expert. The foot bath can also be cold, but not icy, to stimulate blood circulation, treat swelling or inflammation.
And after the homemade foot bath?
After this foot care, the skin is more supple. So now is the perfect time to make a foot scrub to gently remove all dead skin. Once the feet have been rinsed, it is essential to dry them well, paying particular attention to the spaces between the toes (especially in the case of inter-toe mycosis (athlete's foot), the risk being to maintain this evil). Finally, apply a generous layer of moisturizer and you're done. Beautiful feet assured without even leaving home!