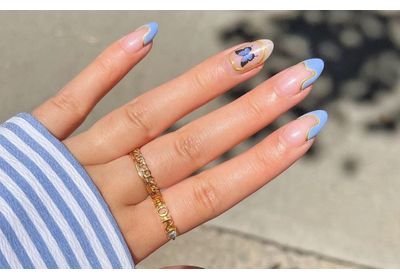 Summer is synonymous with colors and patterns. Whether on our clothes or for our beauty, we want to put pep and vitamins in our daily lives. And that also goes through our manicure. While it's sometimes hard to embrace full color – or at least somewhat eccentric – trends in our makeup, it's often easier to sport it on our nails. Indeed, when it comes to manicure, audacity and pleasure are key words.
And for the season, our nails are taking flight, dressed in a pattern that works just as well on our dresses as on our hands: the butterfly.
Read also: Beauty coaching: will powder varnish replace semi-permanent?
The butterfly pattern: the trend of 2022
It promises to be the trend to wear for this summer: the "butterfly nails". With the hashtag #butterflynail picked up more than 760 million times on Instagram and searches that have increased by 350% on Pinterest according to the British magazine "Glamour", butterfly nails are no longer floundering, quite the contrary.
Very delicate and sophisticated at the same time, this signature pattern from the 90s has been seen on the hands of many celebrities, nailistas at heart, such as Bella Hadid, Lizzo or even Dua Lipa. And if we appreciate this pattern so much, it's for a good reason: its ultra versatile essence. Indeed, whether we decide to wear it entirely in the center of our nail, in french manicure for a touch of modernity, or even in 4D on a jelly nails for an ultra-trendy extravagance: the butterfly will adapt perfectly to all our desires. The proof in pictures.