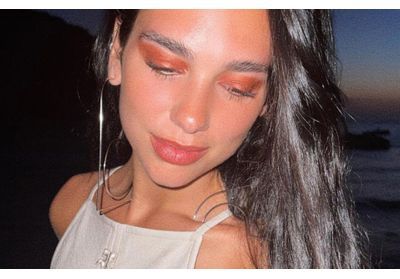 We expected it (or not). It's here: back to school. And with it, all the new trends that will make September (and more)! If the beautistas that we are have already identified the hair colors to adopt like the Chocolate Cherry or evenEspresso Martinion the manicure side, we set our sights on the polish of the season that we like in a monochrome version this year… But one question persists: what about make-up? Well, it seems that we put on the eyelids, too long remained bare this summer. And here again, a shade stands out: the copper eyeshadow. Especially seen on the eyes of Dua Lipa during the wedding of Simon Porte Jacquemus and Marco Maestri, this trend is already everywhere on the networks.
Copper eyeshadow, késako?
If we already know the copper hairthis brassy balayage – representing an alternative to Red hair – which brings light thanks to light reflections on darker hair, the copper eyeshadow, too, is based on an ultra-luminous eye make-up. This copper eye shadow gives our gaze an incredible intensity. This shimmering autumnal shade that we choose iridescent or glittery brings a warm and dazzling eye makeup. If a simple touch of mascara can accompany the eye shadow, it is possible to intensify the beauty look thanks to a more or less thick line of liner. Some will even go as far as a copper smocky eye, and we love that. For the beauty of the mouth, we recommend a nude lipstick because, let's not forget, the look takes precedence with the copper eyeshadow.
Our copper eye makeup inspirations