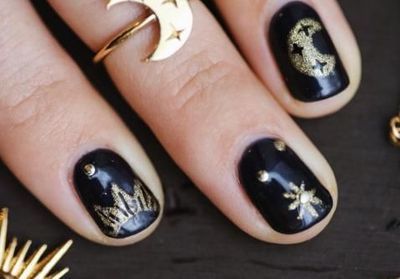 How to prepare your Halloween manicure
Whether you choose a chic or scary glam style, you must not forget the basics of a successful manicure. After having filed his nails and hydrated his cuticles, apply a base coat (the base coat). It protects the nails and makes the manicure last longer. Once it is completely dry, apply two coats of color. We arm ourselves with patience, and we end up with the finishing coat (the top coat). This last layer protects the varnish and prevents it from flaking.
For professional nail art, don't hesitate to decorate your nails with patterns. For more ease, we opt for nail stencils, jewels to stick directly on its varnish. Stamping, to be translated by tampon in French, is also a must for an original Halloween nail art. It allows you to create pretty designs quickly. Finally, the special nail felt pen is ideal for creating dots, lines or other.
Halloween nail art, which pattern to choose?
The whimsical and frightening universe of this party inspires many nail artists. For Halloween, two nail art teams compete. On the one hand, the terrifying manicures who opt for XXL nails and folk motifs (pumpkin, skeleton, mummy). On the other, less daring but still cool manicures that play on dark shades such as blood red, black, midnight blue and stylish effects such as gradient, watermarble or even glitternails.
So as not to flirt with bad taste, here are 40 Halloween manicure models that are easy to do and totally in the theme!