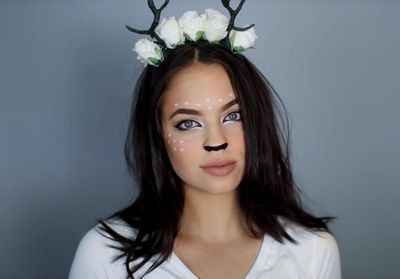 If this year the trend is towards vampire skin (understand vampire skin) or even ultra-glamorous Hailey Bieber Halloween makeup, there are 1001 other ways to make up for the occasion. Tips, tricks and tutorials.
The essential equipment for Halloween makeup
Before Halloween, on October 31, we stock up on make-up. Very simple to apply, they allow you to easily create a multitude of make-ups. To be sure not to be mistaken, we bet on black and white. No need to have your face completely made up to succeed in being in the theme. These two shadows will do the job perfectly for a skeleton make-up. For more elaborate makeup, don't forget fake blood and latex. The plus: colored lenses for a 100% halloween outfit.
Don't want to spend hours in front of the mirror? We run to buy make-up patches or halloween tattoos specially designed for this holiday. The trick? We place the famous little hypoallergenic stickers, one by one, on the cheeks, the nose, the eyes or the contour of the face. That's it !
Easy Halloween makeup
No need to invest an astronomical sum or spend hours in makeup for Halloween. On the contrary, the net is full of simple but effective ideas to scare without difficulty. For example, it is enough for you to have a foundation lighter than your complexion to make you a pale complexion, a red lipstick to make you fake blood or even a black eyeshadow to create dark circles or shadows.
What eye makeup for Halloween?
There are multiple eye makeup for Halloween. Among the best known are the colorful designs that surround the eye like Dia de los muertosthe cobwebs above the eyeliner or the famous black wings worn by Natalie Portman in the movie "Black Swan".
How to get a white complexion for Halloween?
The best foundation for Halloween makeup worthy of the name remains the white complexion. If it is possible to opt for a very clear foundation, the best is still to turn to a white greasy make-up, in other words a special make-up for the face and the body. To apply it well, nothing could be simpler: as we apply our face powderwe take a brush or our beauty blender and the material is stretched uniformly over the entire face. Depending on the desired effect (a Joker make-up requires more material than another make-up), you can apply several layers of eyeshadow to intensify the result.
How to get a fake scar?
To make a fake scar, you need a little more patience and concentration because things get a little complicated. Before you start, you need to gather: latex, fake blood, foundation, black makeup, a brush and small scissors.
First step: using a sponge, tap the liquid latex over the entire area where the wound will be created. Wait for the latex to dry and repeat the operation several times. The drying between two coats can be accelerated using a hair dryer. Finally, make up the latex (which becomes white as the layers progress) with foundation in order to hide the demarcations with the natural skin color.
Second step: using small scissors, incise the latex to form the wound. Be careful not to hurt yourself.
Third step: make up the inside of the wound with a dark shade. Black is preferred.
Fourth step: using a brush, begin to reproduce small splashes all around the wound. Then fill it entirely with fake blood. Do not hesitate to abuse it in order to make the effect more real.
And to remove it then? A bit of'cleansing oil enough. Slide your fingers inside the fake wound and massage gently. The latex will gently peel off.
Halloween makeup: where to find the equipment?
Today, it is very easy to get makeup for Halloween. While there are many stores specializing in parties and disguises in which it is easier to find latex or fake blood, for example, other large stores such as Sephora or Cultura offer pallets and tubes of make-up ideal for getting a white complexion or cat eyes. In addition, there are many dedicated sites on the Internet.
Where to find Halloween makeup inspiration
Each year, the stars compete in imagination to find us THE costume and THE make-up that will hit the mark. Out of inspiration? We do not hesitate to reproduce their look. Classic but effective, our favorite cinema heroines always have their little effect. Super-Woman, Harley Quinn, Black Swann: all looks are possible thanks to the tutorials of beauty Youtubers. Do not panic, these make-up geniuses are there to guide us in our monstrous transformation.
20 freakishly cool Halloween makeup ideas and tutorials