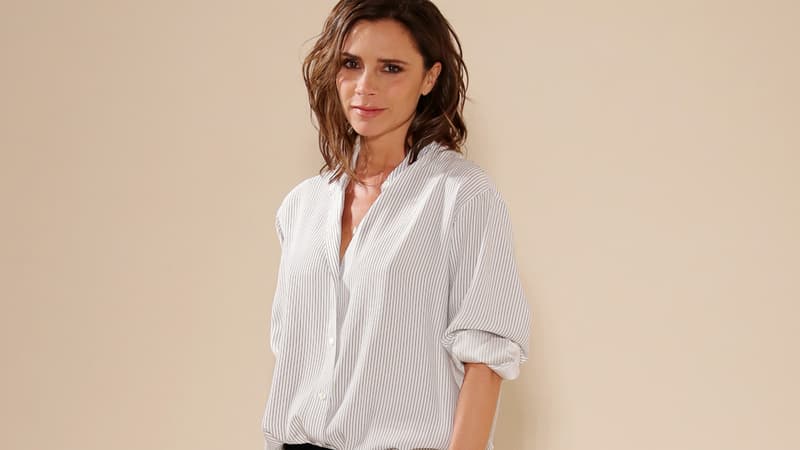 The former Spice Girl silenced doubters and proved her credentials as a designer. Despite sales figures to improve, she still climbs a step this week with her first parade in the French capital.
Spice Girl, "wife of"… Since the launch of her fashion brand in 2008, the British Victoria Beckham has swept away skepticism about her talent as a designer and is preparing to impose herself in Paris, the most popular Fashion Week. prestigious in the world.
The 48-year-old celebrity, followed by 30 million people on Instagram, will give his first Parisian show on Friday evening, after having participated in fashion weeks in New York and London.
"We are ready to move into the big leagues," Ralph Toledano, chairman of the board of directors of Victoria Beckham LTD and former president of the Fédération de la haute couture et de la mode, told AFP.
Admittedly, the experience of Fashion Weeks "with a more commercial connotation" in New York and London "counts", but it is that of Paris, the most prominent, "which validates brands which have a real creative identity", underlines Benjamin Simmenauer, professor at the French Fashion Institute.
Admiring Jacquemus
In all humility, Victoria Beckham confided to feeling in Paris like "a tiny fish in an ocean" in an interview this summer at M, the magazine of the worldwhere she says she dreams of reaching the level of French designer Jacquemus.
With its multi-faceted profile, it has enough to seduce Paris where the biggest Japanese, British and American houses parade alongside French heavyweights and young designers.
"We can hesitate between VB, Chloé or Celine"
"She is a woman who speaks to women with clothes that are at the same time creative and desirable and reflect Victoria: an active woman, an elegant and subtle sexy with a British touch", enumerates Ralph Toledano.
She is "a model mother for some, for others she is an entrepreneur, for others an artist, stylist, celebrity, influencer… She has all these facets", he adds .
Sheath mini-dresses and vertiginous heels at the end of the 2000s, the style of the house and its designer, David Beckham's wife and mother of four childrenhas evolved over time, lengthening and gaining in volume.
"Today we can hesitate between VB, Chloé or Celine. It's funny because originally we saw her a bit like a Spice Girl, like 'the wife of' and not so much like someone who has a very original vision", emphasizes Benjamin Simmenauer.
Knighted by Anna Wintour
From her debut, Victoria Beckham proved that she was more than just a celebrity brand, capitalizing on the loyalty of fans who are numerous in the United States.
"I can't believe I'm writing this – it was a very impressive and accomplished collection," reacted The Times in New York while vogue called her dress collection "one of the hottest things in New York Fashion Week" after her debut show in 2008. never underestimate" Victoria Beckham.
An almost profitable business
Despite these endorsements, the brand has struggled to make a profit, but that's changing. To raise the bar, the Briton has called on a few major French players like Ralph Toledano or Marie Leblanc de Reynies, previously responsible for purchasing at the Parisian department store Printemps, as CEO.
"She is not from the fashion world, she got into this business and at some point, we had to structure, organize, put the house in order, everything we have done for four years" , emphasizes Ralph Toledano.
The two ready-to-wear lines were merged with a new price positioning, the accessories and beauty products lines were developed as well as VB Body, a line of knitted jersey bralettes and figure-hugging dresses.
"Financially, we have come a long way, but I think we will be balanced in 2022," said Ralph Toledano. "We feel able to step on the accelerator knowing that all this will follow behind," he concludes.