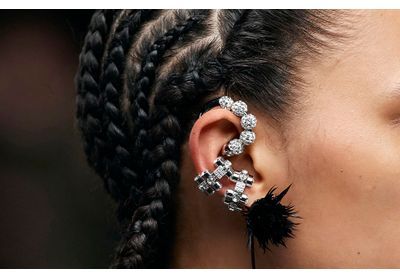 The madness of "constellations"
Whether it's small gold hoops, diamond stars, sleek crescent moons or discreet crosses, piercing has become one of the favorite accessories of millennials. "If the gesture is less definitive than a tattoo, it is however important to choose the safest location: the lobe, the helix – the top of the ear – or the tragus – the part above the lobe . As it is possible to perform up to three piercings per ear at once, we can create a "constellation" with, for example, a chip on the helix, an anchor on the lobe and a ring on the tragus", indicates Santiago Sabo, co-founder of the Saboteur jewelry brand.
Good practices
"The hygiene of the salon must be impeccable: sterilized and single-use needle, material in plastic, wearing gloves and antiseptic cleaning", details Dermato Drey, author of "Making peace with your skin" (ed. Larousse). The realization of a piercing consists in piercing different tissues (the skin, the mucous membranes, the muscles or the cartilages), using a needle. "A good piercer must ensure that the client is of legal age or have his parents sign a discharge if he is a minor, but also inquire that he is not on anticoagulant or immunosuppressive treatment, continues Dermato Drey. He must also provide detailed information on postoperative care, especially if the area of ​​implantation is different from that of the ear – nose, eyebrow, navel, tongue…" "After the placement of a piercing, one avoids making too intense physical efforts, removing it or touching it with the fingers. From the second day, it is recommended to apply a healing spray two to three times a day, "recalls Santiago Sabo. Throughout the duration of the healing (about six weeks for the lobe, up to twelve months for the other areas of the ear), we monitor the possible inflammatory reactions – which can be treated with an antibiotic cream on medical prescription. . It is also better to banish the swimming pool, the solarium or the sauna for a while in order to avoid infections. "Even done by a good professional and in excellent hygienic conditions, a piercing can cause allergic reactions, bacterial infections, and even bleeding. In these cases, it is necessary to consult a doctor", specifies Dermato Drey.
Safe addresses
From Place Vendôme to department stores, more and more brands are offering a piercing service with certified piercers. The new kid on the block: Saboteur, 33, rue Vieille-du-Temple, Paris-4. By appointment: Atelier Maria Tash at Bon Marché Rive Gauche, 24, rue de Sèvres, Paris-7. The most refined: Stone Paris, 28, rue du Mont-Thabor, Paris-1. The reference: White Bird, 62, rue des Saints-Pères, Paris-7. The best established: Mad Lords, 316, rue Saint-Honoré, Paris-1, but also at DeauvilleSaint Tropez…