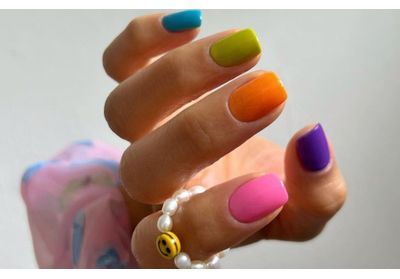 For some time now, colorful manicures of all kinds have been appearing on our Instagram and TikTok feeds. Well, it looks like the 'dopamine nails' trend is knocking on our door – and many beautistas – and is taking over LA. summer manicure to adopt for the holidays. But what is it exactly? A new fashion that is inspired by its big sisters seen before it, like the "dopamine dressing" and the "dopamine beauty", fashion and beauty trends – taking their name, you will have understood it, from the hormone of happiness – which would go through the use of bright colors, each more joyful than the next. Most ? It would be good for morale!
How to appropriate the "dopamine nails"?
After having invested our looks and our make-up, here are the colors inviting themselves on our nails. And it is not to displease us. Because the summer period is made for daring, daring everything! And even if, throughout the year, we appreciate our eternal vermilion red on the nails, we would be tempted by other acid colors for the holidays. Yellow, orange, green, blue, purple… We are spoiled for choice! And when it comes to style, anything goes too. From semi permanent polish united with nail art the most elaborate, there are a thousand and one ways to succumb to it and reveal our creativity. We have the summer manicure that matches our tan!
Our inspirations for adopting the "dopamine nails" trend