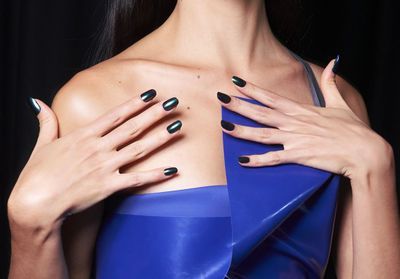 nail art of all kinds, XXL false nails do you want some, here you go… The nail madness does not stop. Frustration of not being able to show her make-up with the wearing of the mask? It's on our hands that everything happens. And to satisfy the demanding clientele represented by nailistas, brands do not hesitate to develop new techniques. One of them ? The powder.
If it is still used confidentially in France, the powder varnish is quite popular overseas. What is it really worth and will it be able to replace our semi permanent polish ? We asked the opinion of Katya, nail technician and manager of the Menasa Wagram institute in Paris 17. "In reality, powder varnish is closer to false nail techniques – gel or resin – than to semi- permanent. You should also know that there are different powders. The resin one with a liquid called acrylic kit and the porcelain one in which you dip your finger. The advantage of this technique? Extreme strength and time saving, the powder varnish is indeed quite fast. In terms of hold, it's more or less like a semi-permanent varnish, that is to say 3 weeks. »
How it works ?
To use this technique, we apply a base adapted to the powder, we dip the finger (two to three times depending on the desired finish) in the powder and after a few seconds, it dries in the open air. Some powders are already colored and you just have to give the shape of the nail by sanding and then applying a top coat. Others are not and we will therefore apply a semi-permanent varnish over them. However, our expert is not convinced by this technique which is struggling to work in France. And for good reason: "The downside? The rendering is much thicker and not the most natural. Also, the powder gives off a particular smell that not everyone likes". So many reasons why other false nail techniques (gel, resin, flash extension) are more popular. The powder varnish would therefore benefit from being improved. A good hearer!