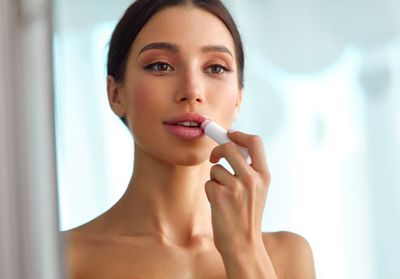 Make-up can be a formidable ally like our worst enemy… The main thing is to know how to handle it well! With age, you sometimes have to learn to use it differently to avoid marking wrinkles, droopy eyes and thin lips. To put an end to these bad gestures – and products – that age us, follow the tips of our expert.
The complexion
Before even talking about make-up, the first mistake we often make is not cleaning our skin. Over time, it dries out and marks more. It also tends to dull, so it is essential to apply makeup on well-cleansed and well-hydrated skin. Otherwise, the foundation may accentuate wrinkles.
The most common mistake? The wrong shade of foundation according to Magali Marx, Clarins make-up expert. "A color that is too dark will age. And conversely, a shade that is too light risks looking pale or tired when you already look less good with age. You also have to try to find the right undertone: pink, golden or neutral. The ideal is to test directly on the chin or jawline to see if the color is invisible. We therefore choose a comfortable and moisturizing foundation, rather fluid to give radiance. And we avoid putting too much – especially on wrinkles and furrows. »
For concealer, be careful not to take one that is too light, especially if you have pockets, at the risk of bringing them out. Better to choose the shade of your foundation or a half tone lighter at most.
On the blush side, we prefer pink because it is the color we lose with age and it is a sign of vitality. The orange blush is perfect for dark skin. We avoid applying it too low because over time, the face becomes hollow enough. On the contrary, we put it well above the cheekbones for plump cheeks.
For the same reasons, you have to have a light hand on the tan. We ban too marked contouring and we prefer to go lightly with a large diffuser brush so as not to weigh down the complexion.
Those who use highlighter for a glowing complexion avoid applying it on crow's feet at the risk of bringing them out.
The eyes
The major mistake? Do not prep your eyelid before applying eyeshadow. We opt for a special base or a concealer. Our pro advises against colors that are too dark for the eyes: "They tend to sink the eye. Especially in the inner corner! Better to favor light and bright colors, satin or matte but not too shiny because they can lodge in small folds. »
You can use pencils or eyeliners, even dark ones, as long as you apply them to the root of the eyelashes. They are not thickened inwards but outwards in order to raise the eye, to have this lifting effect on a drooping eyelid. "But don't try to stretch too much or make a comma because that may also cause the eye to fall out. »
Mascara should not be put on the lower eyelashes at the risk of further fatigue. On the other hand, it is a must-have on the upper lashes to open up the eyes!
Another error? Forgetting to make up your eyebrows. They give a frame to the look so you have to redraw them without marking them too much, and not making them too thin. "You just have to fill in because you lose eyebrows with age and they fade. "As for the tint, it should not be chosen too dark. "We make sure that they don't fall too much at the tip of the eyebrow either when we draw them. »
The mouth
Lips get thinner with age so we avoid colors that are too dark, too matte. They remove volume unlike more luminous, satiny textures.
We also avoid nude tones because we have lips that become depigmented over time as well as brown and purple which yellow the teeth. Magali Marx's trick? "Enhance thanks to good-looking colors: cherry, rosewood or red on fair skin; plum, fuchsia, golden or peach on dark skin. " It's your turn !