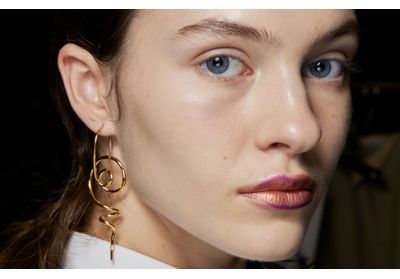 We can not emphasize this enough : take care of your skin is important. And for good reason, this organ (it should not be forgotten) envelops our body and thus protects us from external aggressions of all kinds. We then adopt a well-established skincare routine. That's where our favorite lotions, serums and other creams come in. And while some women are content with a minimal routine, others – followers of the layering – do not skimp on the superposition of care. Without counting on the new trends (sometimes wacky) that we find on the Web and that we adopt without even knowing if they suit us. We are thinking here of Donut Glazed Skin, initiated by Hailey Bieber, consisting of using maximum skin care for an ultra-glossy effect. Faced with this, a problem arises: is it possible to fall into over-hydration of the epidermis? Is it always necessary to apply so much care? Or, on the contrary, is it counterproductive? We asked the question to Nadine Pomarède, dermatologist at the DermoMedicalCenter.
The importance of knowing your skin type
To the question "is it possible to over-hydrate your skin?" ", the expert is formal: "the problem lies rather in the choice of products", which we adopt intrinsically in relation to our skin type. And that's the whole point! It is essential to know how to recognize your skin type to adapt your skincare routine. And, when we talk about hydration, the most important thing is not to confuse dehydrated skin and dry skin because "many people confuse the two, not to mention those who simply prefer the comfort of skincare products with a creamy texture and who adopt too rich skincare products that are completely unsuitable for their mixed skin to fat". Thus, dehydrated skin is a temporary condition that can affect all skin types when the skin barrier is momentarily weakened and thirsty. The symptoms are then revealed to be of the order of tightness, tingling or a lack of flexibility. It must then be hydrated. Dry skin, on the other hand, refers to a type of skin in the same way as combination skin or oily skin. Symptoms, ranging from simple tightness to desquamation, are then continuous. The epidermis needs, here, to be nourished with richer textures. If, however, our skin is both oily and dehydrated (because its hydrolipidic film can also be attacked), it is important to provide it with the moisturizing active ingredients it needs. And this involves both cleaning and care using suitable products. And for the most reluctant, it should be noted that, contrary to belief, the application of moisturizer or even certain oils, is not necessarily not recommended for oily skin. Some products are said to be non-comedogenic, in other words they do not clog pores and do not promote the appearance of pimples or blackheads. This is particularly the case of thejojoba oilprickly pear oil, argan oil or even hazelnut oil.
As a general rule, therefore, there is no risk in hydrating too much, only a risk of hydrating badly. Furthermore, it is important to keep in mind that an increased application of product, therefore an overuse of our cosmetic care, leads us to empty our jars more quickly, thus inducing, as a double penalty, an impact on our wallet and on the environment. To be avoided, especially when you know that you do not derive any benefit from it!
The right gestures for the skin of the face
There is therefore no point in accumulating care or accelerating its frequency. Even if the skin has "complex regulatory mechanisms that allow it to use what it needs to function properly", it is good to choose the right products and review our routine. According to Nadine Pomarède, the ideal combo for dehydrated skin remains moisturizing serum coupled with a light-textured cream for combination to oily skin. Dry skin can, for its part, indulge in "more cocooning products with smoother textures", but beware, this does not necessarily mean oilier! The skin, here, needs to reinforce its hydrolipidic film with water. Another instruction? "We apply these treatments on clean, cleansed skin twice a day," says the expert. For this, we turn to non-aggressive products such as "Jeste Face Cleansing Oil or Novexpert Hydro-Biotic Milky Cleanser". We avoid showers and prolonged baths as well as too hot water which accentuate the dehydration of the skin.
In addition, it is more important to hydrate well from the inside as well as to take care of your diet rather than to accumulate the layers of additional care. According to the expert, "moisturizing the skin is also a matter of "good fats" that the skin does not know how to manufacture. Only food provides the essential fatty acids from which the body develops the lipids of the skin which make it an effective barrier against the outside. Some foods contain these essential fatty acids (omega 3 and omega 6) such as fatty fish (salmon, mackerel, sardines); seasoning oils (nuts, rapeseed, flax), eggs and lamb's lettuce.
And the body then?
"The body is often the big forgotten part of hydration," says Nadine Pomarède. Little chance therefore that it is over-hydrated ". And yet, it is just as important to take care of it. For this, the expert advises using "Exomega Control Cleansing Oil from A-Derma; shower cream, Trixera Nutrition from Avène or Lipikar Cleansing Oil from La Roche Posay" for washing. In terms of body care, "it's a good idea to favor textures that are easy to apply and also allow immediate dressing," explains the expert before recommending a few. She quotes: "Jeste Body Oil; Uriage Velvety Body Lotion and A-Derma 24h Hydration Body Lotion".