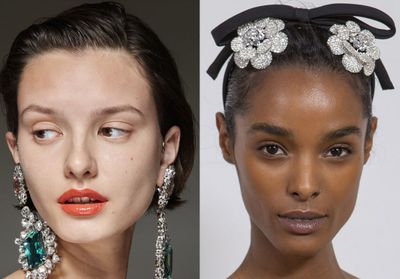 Sleek chignon, bubble braid… Perhaps you are discouraged just by hearing the name of the new trendy hairstyle? Or maybe you have tried so hard to reproduce hairstyle tutorials without success that you, tired, finally decided to let go? Then the following lines are made for you. Notice to beginners (not to say zero) in hairdressing: Damien Boissinot, hairstylist René Furterer, gives his best advice to do better without overdoing it, during the holiday season. "The goal is to improve an easy-to-do hairstyle, to make a little wink with a more advanced texture or an accessory to add. So you have to start with a basic hairstyle: ponytail, bun, loose hair or classic braid and optimize it for a wow effect. Follow the guide !
According to the length
On short hair : "If you have short hair like Mia Farrow, you can opt for a very elegant Belle Epoque style hairstyle, 20s on the side. "For this, we wet his hair, we make a parting on the side and we flatten it. Or, if they are long enough, they are combed back. We fix everything with a shine spray or gel to obtain this wet effect worthy of the red carpets.
The accessory that changes everything: the headband. We choose it in velvet or with pearls to ensure for the holidays.
On a square : "If you know how to do it well, brushing is a safe bet in the evening". We do a professional brushing (by applying a heat protectant before using our hair dryer) and we insist on the lengths so that they are ultra-smooth.
The accessory that changes everything: the barrette. It has been back in force for a few seasons already, we choose it in scales or black for an elegant look and we slip it on the side. You can even put one on each side.
On medium length hair : "We opt for the easiest hairstyle to achieve, a ponytail that we will improve". Instead of leaving it simple, we take a thin strand of the tail which will be used to surround – and hide – the elastic. Prefer a low tail for a sophisticated look. Another option for medium-length hair? Twist her ponytail into a low bun and secure with pins.
The accessory that changes everything: the comb. It is inserted just above the elastic. We choose one with rhinestones or jewelry to shine brightly.
On long hair : "we make a banal braid except that we will deport it on the side for a bohemian side and accessorize it". Spray a texturizing spray if you have it to give substance to your hair. Make a classic braid and bring it naturally over one of your shoulders. It shouldn't be too tight, too neat, so loosen it up by gently loosening the braid from top to bottom. You can even let strands escape in front of your face.
The accessory that changes everything: the ribbon. Spotted on the Chanel Métiers d'art 2021-2022 show, where the half-wise, half-rock hairstyles were precisely signed Damien Boissinot, we adopt it this time at the bottom of the braid. In addition to dressing up the braid, it camouflages the elastic by tying a knot around it. It is chosen in satin or velvet. Simple but effective !