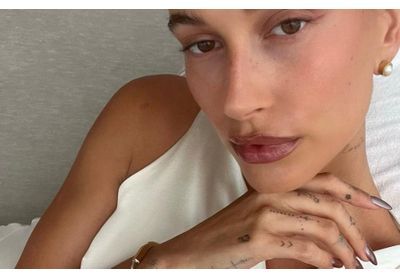 Popularized at the start of the summer by the American model Hailey Bieber, the manicure trend called "Glazed Donut Nails" continues to be talked about. And for good reason, these nails with an ultra-shiny, lacquered and satin finish, reminiscent of the glazed topping of the famous American donuts, have invaded the feeds of our social networks and the hands of fashionable girls in recent months. More recently, Justin Bieber's wife even went further by succumbing to an icy brown shade, then offering an autumnal variant of this manicure seen until then in nude, pastel or even acidulous shades. And good news: it seems that, whatever the color chosen, the technique remains the same. In any case, this is what Alexandra Falba, OPI expert manicure, reveals to us, giving us her advice on how to reproduce this manicure, which has not said its last word, step by step!
The importance of choosing the right varnish
"To reproduce the Glazed Donut manicure and its transparent, shiny and pearly finish, the choice of varnish is essential," says Alexandra Falba. We therefore say goodbye to matte varnishes (the effect of which would be counter-productive) and we turn without hesitation to a varnish with an ultra-shiny finish such as can be found in the long-lasting Infinite Shine range from OPI.
If you want to reproduce Hailey Bieber's original manicure, it is appropriate to turn to a nude, somewhat ivory background color. The expert then recommends the use of one of the following two shades: "Funny Bunny" or "Bubble Bath" as a background color. If, however, you want to adopt a more autumnal version, she recommends warmer and more indulgent colors such as dark chocolate ("Brown To Earth") or taupe gray ("Peace of Mined"), "a shade which, in addition to suit a large number of complexions, is the tone of the autumn parades". One thing is certain, the expert "encourages people who want to reproduce this manicure to play without hesitation with the background colors because once the technique is acquired, it can be adopted in 1001 ways". Watchword ? Enjoy !
Once the background color has been chosen, we gather – before starting – a toothpick, aluminum foil and a clean brush from an old bottle of base or top coat.
The step by step to reproduce at home
We then begin the manicure with a classic nail polish. In other words, on clean and filed nails, apply a base coat then two coats of the chosen color. Until then, nothing could be simpler. Then the nail art part begins. "While the colored glaze dries, we prepare the recipe (with precise proportions) of the glaze for the Glazed Donut," explains the expert. To do this, mix – on the aluminum foil and using a toothpick – 2 drops of top coat ("Gloss Infinite Shine") with 1 drop of pearly varnish ("Kyoto Pearl Infinite Shine")". Then just apply a thin layer of this mixture using the clean brush on each of our nails to obtain a glossy effect without hiding the color. Note that it is necessary to redo the recipe (without ever modifying the doses) several times in order to cover both hands. "Once the flawless and gourmet icing has been obtained, we finish by applying a final layer of top coat to bring shine and a regular sheathed side to the look".
If some tutorials seen on social networks tended to discourage us from reproducing this manicure at home, Alexandra Falba's advice reassures us and pushes us to take the plunge. However, for an even more spectacular result, the expert recommends going to a salon where the pro will use a fine chrome powder to reproduce the icy effect of Donut Glazed Nails, which he will rub and trap between two layers of freeze ". A technique that she advises against with the use of a classic varnish at the risk of ending up with an unsightly result.