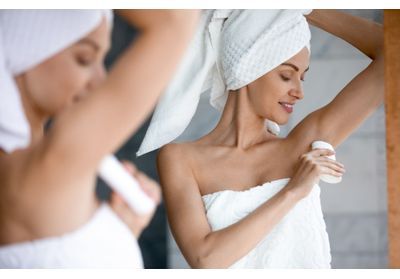 In the hygiene care department, it reigns supreme: the deodorant. Whether we prefer it as a roll-on, a spray or even a stick, it has always been an essential part of our vanity case to stay cool all day. But there is another that plays the game of direct competition: the antiperspirant. Two names for one and the same action? There are questions to be asked. And yet, the answer is no, these two products have two very distinct actions! Did you know ? Marie-Estelle Roux, doctor of medicine, specialized in aesthetic and medical dermatology and expert Sanex advises us in the choice of this everyday product.
Two products, two actions
Let's first remember that our body produces between 0.5 and 1 liter of sweat per day. A figure that can triple during hot weather. And if the fact of sweating is a natural phenomenon essential to the proper functioning of our organism because it allows us to regulate our body temperature (around 37°C), it often induces the appearance of uncomfortable odors and the production of sweat which can be bothersome. This is where both hygiene products come into play and their actions differ. Indeed, "we may need to limit the production of sweat, especially when halos appear quickly or frequently on clothing, explains Dr. Roux. You will then need to use an antiperspirant. This product blocks the excretion of sweat through the sweat ducts. In the event of high temperatures, for example, it is normal for perspiration to increase in order to cool the body. It then becomes more visible, especially in the folds, because it evaporates less". Intrinsically, the skin is wet and our clothes with it. This is where the antiperspirant, as its name suggests, comes into its own. Conversely, you may not sweat and still feel odor discomfort with the need to camouflage it. "We will then use a deodorant, which neutralizes bad odors and brings a pleasant fragrance," explains the expert. In addition, it is worth remembering that "the odors – due to accumulated bacteria which multiply and release malodorous gases – are not necessarily stronger during hot weather", specifies the expert. And on the hair side then? "Hair has no impact on perspiration. On the other hand, thehair removal or the fact of shaving can limit the development of unpleasant odors".
For each problem there is a solution
Now that we have understood the difference between these two products, the long questions about the shelves during our beauty shopping are over. We turn to the product that meets our needs. And if they include both cases, it is good to know that "some products combine the antiperspirant effect and the deodorant effect", specifies the expert. In addition, when making our choice, the expert recommends "avoiding products whose ingredient lists are too long, ingredients that you know you are allergic to or even alcohol, which can be irritating". She also recommends roll-on or cream products for depilated areas or sensitive skin, as well as solid stick formats that are very interesting, particularly in terms of ecology.
And the tips from the pro go far beyond the simple choice of deodorant. Indeed, "choosing clothes made of natural material (cotton, linen, etc.) and loose would allow aeration and ventilation of the skin so that the sweat evaporates," she explains. Ditto when playing sports, it is good to choose "suitable technical clothing with ventilation systems". Moreover, it would seem that food also plays its role, so we avoid "strong foods whose odors can be concentrated in the sweat, such as garlic or onion for example". And above all, we drink a lot of water to compensate for perspiration.