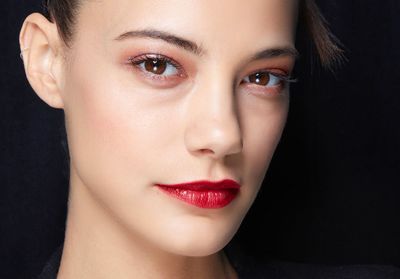 A time neglected because of the wearing of the mask, the lipstick was clearly the unloved of our beauty kit. Nevertheless, since life is gradually taking back its rights, we want more than ever to bring out this pretty lipstick that was gathering dust in our bathroom. But as we draw a red mouth, an old diktat, which we had apparently forgotten, runs through our heads and confuses us. "You should never make up your eyes when you have red lipstick", we remember. Oh good ? And why, already? We asked the question to Patrick Lorentz, make-up artist Estée Lauder. "I never understood this sentence. Make-up should be a moment of pleasure and creativity. In the collective unconscious since the post 80s – since the 80s were synonymous with partying, with color, there was no ban – we then limited ourselves to the mouth or the eyes. Which is absolutely false. I know that red can be scary and that many have a history with this color of lipstick. For some, it is associated with the mark of the kiss on the cheek left by an old aunt, for others, it is the color of seduction only…"
The red that goes well
It's high time to demystify the red lipstick and realize that it can be an asset. As for the hue first, the good news is that true red suits everyone. The make-up artist adds: "The slightly bluish red goes well with brunettes and orange-red with blondes and redheads, but again, it's all a matter of taste! If it's a color that you have trouble accepting or that you don't dare to wear yet, you can start with a tinted lip balm or a low-pigment lipstick that you tap on your fingertips . Once the red is chosen, we think about an eye makeup that looks like us.
Manual
Looking back, red lips weren't always accompanied by understated eye makeup. What better example to convince you that theultimate beauty icon, Marilyn Monroe ? Remember, in the 1950s, when the incarnation of American glamor was at its peak, she displayed signature makeup: a red mouth but also strong eyebrows, white on the eyelid and black eyeliner . Our expert explains: "Obviously, we are going into a more theatrical, more sophisticated make-up. But why not ? Whether it's for fun or for an occasion – a date, a job interview, a family meal – there are a thousand and one reasons to try. »
Try, yes. But how ? According to Patrick Lorentz (@patricklorentz on Instagram), several options are available to us depending on the desired effect: eyeshadow in neutral colors (taupe, black, grey) and mattes on the eyes for an elegant result, or colored shades (turquoise, green, yellow) if we want to have fun and put some pep in our makeup. Black eyeliner also goes very well with it. Accompanied by a thin layer of mascara, it represents the emblematic make-up of the Parisienne abroad. But it can also be worn with a comma like our dear Marilyn for a glamorous or graphic result for a modern look. As for the smoky, it is, contrary to what we feared, not prohibited! "On the contrary, explains our expert, the combination of smoky eyes and a red carpet-style red mouth works divinely well with a dressed up hairstyle. For a more rock effect, we can even consider making a smoky that runs a little while wearing jeans and sneakers »
In beauty as elsewhere, everything is a question of measurement. Enough to make us deconstruct an a priori that has a hard life.