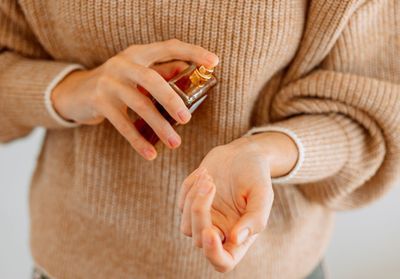 It is a period of life rich in emotions, where at the same time as the search for one's identity and the quest for oneself, one likes to find one's own trail. "Adolescence is really the time when you start wearing perfume. These are often the first steps in perfumery," explains Juliette Karagueuzoglou, perfumer at IFF (International Flavors and Fragrances – a company among the leaders in the perfume market). And teenage girls tend to lean towards particular notes: for those of the 90s-2000s, these are the fruity notes, sweet, greedy that were all the rage. In the 80s, before them, we loved more floral notes but the choice was more limited. The perfumes of teenagers evolve at the same time as fashions and society. We see it with those acclaimed by today's "teens". The expert deciphers: "Very comfortable perfumes are in fashion: powdery, musky, pure, they smell clean like You from Glossier. It is somewhat reminiscent of the trend of the 80s before Angel de Mugler upset the landscape of perfumery by creating the gourmet olfactory family. Another trend? Young people today pay more attention to formulas. With perfumes like Girl by Rochas or Nomade Eau de Parfum Naturelle by Chloé (note: released on February 21, 2022), we realize that they are looking for more values, especially that of eco-responsibility. Rochas and Chloé are two houses that have a trend-seeking side and try to rejuvenate their target, so that's quite significant. This is a subject that will carry for several years I think. We also see it with the arrival of more and more refillable perfumes. »
We leave our teenage perfume but not completely
Like the ideas of a committed generation seeking to shake up the boomers, the notes of perfumes are changing, the way they are made too, as well as the way they are consumed. "I find that women no longer wear a single perfume for years with loyalty as was the case before when there were fewer launches and there were no online sales. They often have several and change them from day to day, a bit like a wardrobe". More accessible, perfume is used differently. Suffice to say that it is therefore rare to keep its adolescent scent, past adulthood.
Juliette Karagueuzoglou reflects: "I don't think I know anyone who still wears their teenage scent. I have the impression that we leave it at the same time that we leave our parents' house and take flight. There is something transient. This perfume is so linked to a period of our past life that we often end up wanting to part with it as we grow up. But it is not impossible to want, sometimes, to be reassured by falling back into this era. "You may want to keep it to comfort yourself during a stroke of the blues!" adds the IFF perfumer.
Finally, as adolescence creates the adult we become, the perfumes we wear during this pivotal period influence the juices we will wear throughout our lives. "People who appreciated gourmet notes as teenagers still wear them. They may have gone from Angel to La Vie est Belle or Libre by Lancôme or from Amor Amor by Cacharel to Black Opium by Yves Saint Laurent. Or else they will go for gourmet but sophisticated juices such as chypre fragrance If from Armani". Enough to continue to bring its teenage flavor to life, just right.