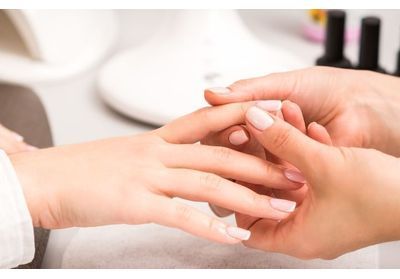 Can I apply nail polish in direct sunlight?
No. Avoid manicure under the rays: when it is hot, the solvents do not evaporate in a harmonious way, drying takes longer and small bubbles may appear.
Should I keep my varnish in the fridge?
Theoretically not. "Keep it away from heat and light in a temperate place between 5 and 25°C, advises Gaëlle Lebrat-Personnaz, founder of Manucurist. Clean the neck so that the bottle remains airtight: this is what keeps a good consistency. In a poorly closed container, the varnish can thicken. » Some brands offer thinners that help restore proper fluidity. Finally, "you can throw away your bottles even if they are not completely empty, they will still be recycled", indicates specialist Gaëlle Lebrat-Personnaz.
Do you really need to take a break between two manicures?
The experts are divided, but you can relax on the subject. "I tried to take breaks and it had no effect on the state of my nails, which are perfectly healthy. I now wear nail polish non-stop," says influencer Jess Brush (@nail.betch on Instagram and nailbetch on TikTok), who does amazing manicures. "I would go even further, she continues, having varnish protects them from shocks: in the event of a blow, it flakes off, but, underneath, the nail remains in good condition. " Bastien Gonzalez, world expert in nail care *, tempers: "I recommend removing the varnish every three or four days. If it is kept longer, the base no longer protects the nail, and the acidity of the pigments tends to discolor and weaken it. You can chain the manicures during the summer if you love it. But take a break at the start of the school year. The nails are dead, they don't need to breathe, but it's the nail bed, the very fragile skin underneath, that suffers if an occlusive varnish covers it non-stop. » * Salon Révérence de Bastien, 8, Véro-Dodat gallery, Paris-1er .
I don't have a cuticle pusher, what should I do?
"At a minimum, clean your hands with lukewarm water to soften the cuticles and try to massage them, advises Jess Brush. On the other hand, avoid cuticle scissors, which are difficult to handle. "The cuticles are essential to the good health of the nail and protect it from bacteria, adds Bastien Gonzalez. The best thing is to take a long bath in lukewarm water, peel off and sand the cuticles gently, to reduce their size, without removing them. Otherwise, you can cause inflammation and an unsightly red bump. On the sides of the nail, these are not cuticles, but calluses, which can also be reduced, sparingly. At the salon, I also offer urea masks, which are very effective in softening dead skin, which are then removed by hand. (Eucerin is launching a 10% urea foot foam this summer that works wonders on dry skin.)
What is the difference between a "clean" nail polish remover and a traditional nail polish remover?
Formulas with acetone are increasingly rare: they are mainly used in the salon to remove semi-permanent varnishes. For the general public, labs have replaced this very drying solvent, which is aggressive for the nails and the respiratory tract with other milder versions: ethyl acetate, or even ethyl lactate. "Clean" brands often offer so-called "biosourced" solvents, in which synthetic molecules are replaced by ingredients of plant origin. Jess Brush prefers acetone-free versions. "Wash your hands before applying nail polish. The key to a good manicure is to remove all traces of remover with great care before applying the new varnish: some solvents contain oils, which can completely disturb the installation. Use soap above but also below the nail," she recommends.
How to have nails that are always clean?
"Nothing replaces the small traditional nail brush, next to his sink, with soap", asserts Jess Brush.
Can I keep my gel nails even if I go to the sea or swimming pool?
Yes. "The gels are perfectly resistant to sea and swimming pool water, explains Sabrina Martinez, nail technician in Arles (@lesonglesdesabrina). On the other hand, do not bring these nails to your mouth: the acidity of the saliva damages them. Similarly, when using hydroalcoholic gel, avoid the nails: it melts the varnish. If you can, always favor washing with soap and water. Sunscreen is unnecessary to protect their color. Finally, on light tones, ban anything that could make them yellow: tinted creams, for example, as well as spices when cooking. To maintain optimum shine in the summer, I recommend increasing the drying time by thirty to sixty seconds. We can keep these gels between three and five weeks, they must then be deposited in the salon, using a sander with a ceramic tip. Bastien Gonzalez warns, however: "Having gel nails slows down the natural growth of the nail underneath. »
Are the nail stickers water resistant?
Yes. "Nevertheless, the nail must be degreased before application with a specific product (cleaner or degreaser). Then apply a good top coat and it won't budge," advises Sabrina Martinez.
How to have long and unbreakable nails?
"Summer is the perfect season to start growing your nails because the air is dry. And drink plenty of water, recommends Jess Brush. Every evening, massage them with cuticle oil (be careful not to do this in the sun). Of course, it is absolutely necessary to wear gloves as soon as you are likely to damage your nails, that is to say when you do the dishes and the housework. Bastien Gonzalez also recommends tapping them, to create a vibration and toughen them up. "Toenails are thicker than fingernails because they are constantly impacted inside shoes. It strengthens them," he says.
How to speed up the installation?
"Resist the temptation to apply one thick coat: the drying time is even longer, warns Jess Brush. Apply a very thin first layer, then apply the second layer in stride and, finally, the top coat. Let it dry for two minutes, then apply a drying accelerator in drops or in an aerosol: it really makes a difference. »
What reason to start nail art?
" I realize most patterns simply with the varnish brush, describes Jess Brush. Choose two colors that you like: the base can be nude, the flaws will be less visible. Apply a thin coat, wait a minute for it to dry and then you can design with the second color. Make rounded shapes, in free-style: they are easy to catch up. [Il y a beaucoup d'exemples sur son compte @nail.betch, ndlr]. It's much simpler than doing a French manicure, which must be straight. Moreover, rather than a French, rather make an abstract shape at the end of the nails. I really like to draw two waves, a bit like the top of a heart, by just doing two brush strokes. The important thing to keep in mind is that each polish formula has a different consistency. It is therefore necessary to test the right quantity of product to apply on the brush for each brand: this is what requires a little practice. Practice on a sheet first. I recommend the CND brand to start because the consistency of its varnishes is thick. The applied pattern remains exactly in its place. »
Do I have to equip myself with equipment?
We really like the "dotting tools", small tools with rounded ends, which help to create points easily. "It's the best investment for beginners, judge Jess Brush. Ultrafine brushes are much more complicated to master. You can find them from €5.
Should I use a base coat, a varnish and a top coat of the same brand?
It's a myth. "I mix absolutely all brands and I see no difference," says Jess Brush.